Victor Vran PlayStation 4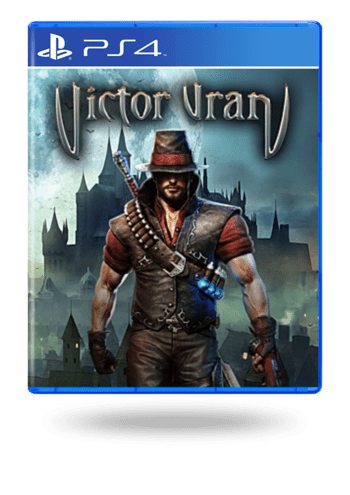 Désolé, en rupture de stock :(
Vous voulez ce jeu ? Nous pouvons vous informer par e-mail lorsque le produit sera nouveau disponible.
Notification
Blu-ray

Ceci est une édition physique du produit ( Blu-ray )
Commentaires: 0
Description du produit
Victor Vran PlayStation 4 CD
If you want to experience the best of RPG gaming, then Victor Vran CD on PlayStation 4 is one of the titles that should appear in your library of owned games! Electrifying gameplay and a set of features to leave players with everlasting memories are guaranteed. After all, the game is developed by Haemimont Games and brought to you on 2015-07-23 by EuroVideo Medien, so it's all about high quality. Buy Victor Vran PlayStation 4 CD at a great price and you will sign up for a rewarding experience that broadens your horizons in the gaming world of entertainment!
RPG genre
Victor Vran PlayStation 4 CD is a story-driven RPG defined by the player's freedom to make decisions. One can respond to events in any way they can think of. The mission is concentrated on a captivating quest. While undergoing it, one must conduct various tasks and grow their character. It's an interesting game that puts emphasis on individual choices and desires. The player's the only one who can control the character and their success, making the experience much more personal and exciting to anyone trying it out.
Features
Victor Vran CD includes tons of new things that greatly improve the overall player experience! Let's take a look at some of the features:
• Action RPG - This title emphasizes combat, stat improvement, finding perfect gear combination and destroying foes in fast-paced combat.
• Indie - The locations, characters, soundtrack, and story were created by a smaller, independent developer team.
• Fantasy setting - You encounter mythical creatures, journey to enchanted lands, and meet interesting characters.
• Isometric view - The game utilizes a slanted camera angle to reveal various facets of the map.
• Dungeon crawler - Players have to avoid traps, collect treasure & power-ups, and battle monsters & bosses as they travel through maps that change with every playthrough.
• Loot - You have to work towards acquiring better equipment by slaying more foes and obtaining their treasures.
• Singleplayer - The game features a solo campaign with a story.
• Online co-op - Connect with other players over the internet as cooperate to successfully overcome challenges.
• Local co-op - You can complete tasks together with a friend by playing offline on the same machine.