Killing Floor 2 Xbox One
Jeu solo

Multijoueur

Atmosphérique

Prise en charge complete manette

Grande bande sonore

Coopérative

Monde ouvert

Première personne

FPS

Horreur

Drôle

Co-Op en ligne

Difficile

Gore

Survie

Multijoueur en ligne

Zombies

Horreur de survie

En équipe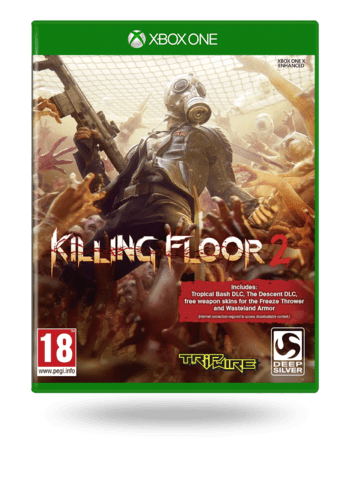 Désolé, en rupture de stock :(
Vous voulez ce jeu ? Nous pouvons vous informer par e-mail lorsque le produit sera nouveau disponible.
Notification
Blu-ray

Ceci est une édition physique du produit ( Blu-ray )
Description du produit
Killing Floor 2 CD
If you want to experience the best of FPS gaming, then Killing Floor 2 CD on Xbox One is one of the titles that should appear in your library of owned games! Electrifying gameplay and a set of features to leave players with everlasting memories are guaranteed. After all, the game is developed by Tripwire Interactive and brought to you on 2016-11-18 by Iceberg Interactive, so it's all about high quality. Buy Killing Floor 2 Xbox One CD at a great price and you will sign up for a rewarding experience that broadens your horizons in the gaming world of entertainment!
FPS genre
Get that adrenaline rush you've been looking for. The FPS game Killing Floor 2 Xbox One CD will transfer you into a planet where war is happening all the time. This means that you'll need to be alert throughout the whole game. Enemies don't sleep, so you can't either. Protect yourself and attack them all at once. This fast-paced, action-packed and fun game will captivate you and make you forget that the outer world even exists. Blow off some steam and get back to reality feeling completely refreshed!
Features
You're bound to enjoy Killing Floor 2 CD, especially since it includes these features that elevate the gameplay to a whole new level:
• Singleplayer - The game features a solo campaign with a story.
• Online multiplayer - You can participate in online matches with others via the internet.
• Atmospheric setting - The immersive world is accompanied by stunning visuals, charming soundtrack, and fluid gameplay mechanics.
• Full controller support - No keyboard or mouse is required - the game is fully playable via controller.
• Great soundtrack - The gameplay is accompanied by a soundtrack that echoes all the ups and downs happening in the game.
• Co-op - This feature allows you to play the game together with friends.
• Open world - You can freely explore every nook and cranny and discover all the hidden secrets.
• First-person view - Players see their surroundings from the perspective of their character.
• Horror - This title features an intense, dreadful atmosphere, various monsters, dilapidated environments and bone-chilling encounters.
• Online co-op - This feature allows You to connect with friends all over the world and complete missions together.
Autres détails
Langue
Russe
Allemand
Coréen
Anglais
Espagnol, Castillan
Français
Japonais
Italien
Polonais
Portugais
Chinois
Date de sortie
Éditeurs
Tripwire Interactive
Iceberg Interactive
Développeurs
Fonctionne sur