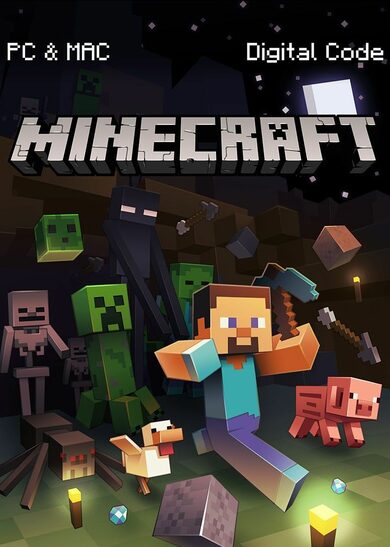 Minecraft: Java Edition Official website Key GLOBAL
Eneba – platforma, kurioje pasiūlymus teikia patikimi, licencijuoti skaitmeninių žaidimų pardavėjai. Prie pasiūlymo esantis ženklas "Eneba Official" reiškia, kad perkate šį žaidimą tiesiogiai iš Eneba.com, o ne iš trečiosios šalies pardavėjo.
Mūsų platforma suteikia visišką laisvę rinktis, iš ko pirkti. "Eneba Official" ir kitų pardavėjų aptarnavimo, techninės pagalbos lygis yra toks pats.
Leidėjas

Official
Eneba
|
Leidėjas
Microsoft Studios
Svarbi pastaba:
Code can be redeemed at : https://minecraft.net/en-us/redeem/minecraft/instructions/
4

papildomi pasiūlymai
Minecraft: Java Edition
When we talk about Minecraft key, it's hard to say where to begin. The sandbox video game was created by Markus Persson and later developed by Mojang. It's a reminiscent of 8-bit games, where your creativity is the only limiting factor. Imagine playing with lego — it's pretty much the same with Minecraft, only the blocks from which you build your masterpieces are never-ending!

The World Is Your Playground!
The whole Minecraft java key world around you is made out of blocks, reality itself is made out of blocks! Birds, sheep, clouds and water are blocks! A never ending, or rather, the ever-lasting world is full of caves, dungeons, monsters and other blocky designs! And the best part is that you can collect everything and use anything while building your own designs! Oh, by the way, there are portals to other dimensions too.

It's All About Crafting!
There's countless possibilities of what you can craft with Minecraft key! Combine different materials and create items for construction, survivability, hunt or battle!

Different Game Modes For Your Ultimate Experience!
Minecraft Java Edition key offers quite a few game modes to explore in single-player:
• Play survival, where you start empty handed and have to create your own shelter, protection and everything around you from the very scratch.
• Go one step further into extreme survival, where you have a sole life, and with your death, everything created is lost!
• Unleash your talents in Creation mode, where you have instant unlimited resources, immortality, and an ability to fly!
• Ghostly Spectator mode, where you are just a wandering soul, untouchable, unimpactful but equipped with an all witnessing and seeing eye!

Online?
Join millions of Minecraft Java players online, where what's happening will depend on the realm you decide to join. From battle arenas to limited survival matches, to massive construction worlds, Minecraft Java Edition key offers it all! Explore, craft, create and enjoy!
---
Žaidimo informacija
Amžius: 7 +

Vieno žaidėjo režimas

Daugelio žaidėjų režimas

Bendradarbiavimas

Padalintas ekranas

Trečiojo asmens

Pirmojo asmens

Virtuali realybė
---
Žanras:
Operacinė sistema:
Kalbos:
Afrikaans
Arabic
Azerbaijani
Belarusian
Bosnian
Bulgarian
Danish
Dutch
English
Estonian
Filipino
Finnish
French
German
Greek
Hebrew
Hindi
Icelanding
Irish
Japanese
Korean
Latvian
Lithuanian
Luxembourgish
Macedonian
Mongolian
Norwegian
Polish
Romanian
Russian
Serbian
Slovak
Slovenian
Somali
Swedish
Tamil
Thai
Traditional Chinese
Turkish
Vietnamese
---
Išleidimo data:
2013 m. lapkričio 19 d.
Leidėjas
Microsoft Studios
---
Minimalūs sistemos reikalavimai
Sistemos reikalavimai: Windows 7 and up
Procesorius: Intel Core i3-3210 3.2 GHz / AMD A8-7600 APU 3.1 GHz or equivalent
Atmintis: 4 GB RAM
Grafika: Intel HD Graphics 4000
Talpa: 1 GB
Rekomenduojami sistemos reikalavimai
Sistemos reikalavimai: Windows 10
Procesorius: Intel Core i5-4690 3.5GHz
Atmintis: 4 GB RAM
Grafika: GeForce 700 Series or AMD Radeon Rx 200 Series
Talpa: 4 GB
Papildomos pastabos: Broadband Internet connection