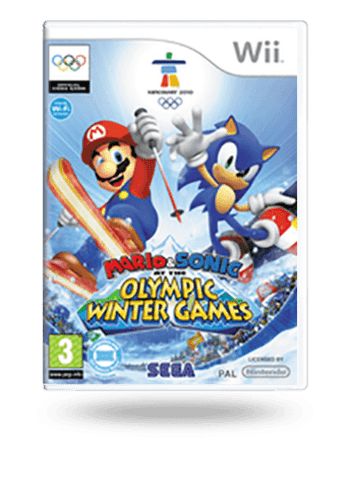 Atsiprašome, išparduota :(
Nori šio žaidimo? Kai šis produktas vėl bus prekyboje, mes apie tai pranešime el. paštu.
Pranešimas
Blu-ray

Fizinė produkto versija (Blu-ray)
Prekės aprašymas
Mario & Sonic at the Olympic Winter Games CD
If you're seeking a Sports game that offers a different perspective and entertaining to play, halt your search! Mario & Sonic at the Olympic Winter Games CD available on Wii is an instantly atmospheric game that pulls you into the virtual world right away. Developed by Racjin with a generous hand and published by SEGA, the game boasts high-quality and smooth gameplay with features that challenge you and reward you with an unforgettable gaming experience. Buy Mario & Sonic at the Olympic Winter Games Wii CD at a lucrative price and dive into another video game inspired by wild imagination and innovation that enriches Sports genre and your personal experience!
Sports genre
Blow off some steam and unleash your competitive side as you fight for first place in various championships against some of the best players with Mario & Sonic at the Olympic Winter Games Wii CD! You're bound to enjoy some innovative features that revitalize the sports genre as you strive for glory! In this title, you get to train your character, participate in competitions, and face off against powerful opponents who are going to exploit your weaknesses every chance they get. So, prepare the best strategies, hone your reaction time & hand-eye coordination and strive to become the best player in the sport!
Features
Innovative gameplay features are very important for an entertaining experience. Thankfully, Mario & Sonic at the Olympic Winter Games CD includes plenty of them for you to enjoy!
• Singleplayer - The game includes a story campaign meant for solo players.
• Party game - This game is meant to be played by several people at once.
• Character customization - The gameplay mechanics allow players to modify the appearance, skills, weapons, gear, and other aspects of the controllable character.
• Competitive - This title pits you against other evenly-matched opponents in fast-paced matches and challenges you to improve.
• Family-friendly - Is appropriate both older and much younger players.
• Adventure - You meet and interact with colourful characters, solve various puzzles and explore the world.
• Arcade - Players have to beat levels which become increasingly challenging the better they get.
Tau taip pat gali patikti