Fortnite: Save The World PlayStation 4
Kelių žaidėjų režimas

Co-op

Mokslinė fantastika

Zombiai

3D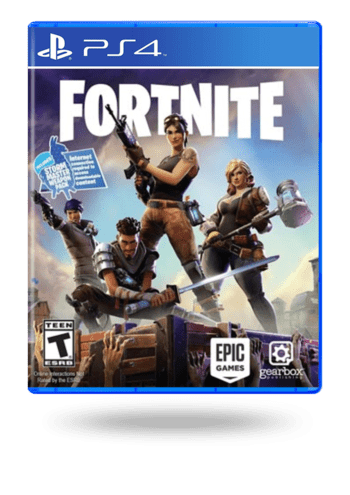 Atsiprašome, išparduota :(
Nori šio žaidimo? Kai šis produktas vėl bus prekyboje, mes apie tai pranešime el. paštu.
Pranešimas
Blu-ray

Fizinė produkto versija (Blu-ray)
Prekės aprašymas
Fortnite: Save The World | Used PS 4 disc
Tired of spinning to and fro among old games in your collection of owned titles? Time to freshen up! Fortnite: Save The World CD on PlayStation 4 is one of the most prominent action games, developed by and brought to you on 2017-09-26 by an established gaming studio - Epic Games, Inc. Whether you are new in the genre or a veteran that knows most of the Action titles, this game offers an invigorating experience for both types of gamers alike! Buy Fortnite: Save The World PlayStation 4 CD and embark on adventures, try out the set of stunning gameplay features that add uniqueness to the title and distinguishes it from most other games!
Action genre
Do you want to train your reaction time and reflexes? Or maybe you think you've got what it takes to be the best player? It's a perfect way to try them out in Fortnite: Save The World PlayStation 4 CD. It's an action game full of fast-paced combat. The frenzied activities of the game will take you to another world in which you'll definitely have to use some of the natural skills, like speed, focus, and accuracy. Find out if you can put these in practice and beat your enemy down.
Features
Step into the riveting universe with Fortnite: Save The World CD! Spend hours exploring every little feature this title includes:
• Multiplayer - This feature allows you to play with others.
• Open world - Players are free to explore the vast environment full of various locations, hidden secrets, and more.
• Online co-op - This feature allows You to connect with friends all over the world and complete missions together.
• Comedy - The game contains various comedic elements for light-heartedness.
• Exploration - This title heavily focuses on travelling to uncharted locations and discovering secrets.
• Third-person shooter - The action is presented via over the shoulder angle which allows for greater character customization.
• Fast-paced - This title includes intense fight sequences which test player reaction time.
• Competitive - This title emphasizes improving your skills, creating effective strategies and beating opponents in matches.
• 3D graphics - The world consists of three-dimensional models that can be rotated and viewed from all angles.
• Collectibles - Various items are scattered across the levels that players can collect.
Tau taip pat gali patikti