Upcoming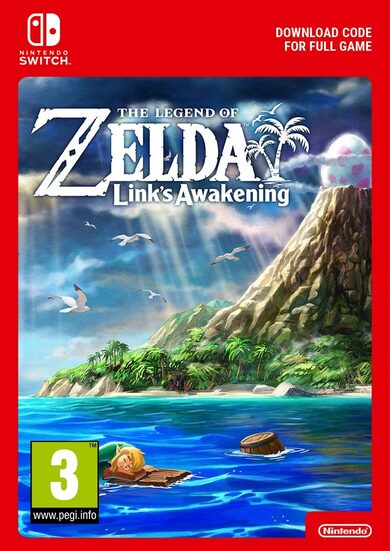 The Legend of Zelda: Link's Awakening (Nintendo Switch) eShop Key EUROPE
99.86%

from 500+ rated as excellent!
Works on
Release date:9/20/2019
Important Notice:
This video game is still in a PRE-ORDER phase. We inform you that our PRE-ORDER bonuses, if included, may be different from the bonuses that other stores may suggest. You will receive your product key upon the game's release date: 09/20/2019
The Legend of Zelda: Link's Awakening (Nintendo Switch) key
It doesn't matter if you are a dedicated fan of the series or if you just stumbled across the name Zelda, buy the Legend of Zelda: Link's Awakening key and immerse yourself in the colourful and brilliantly recreated Koholint Island. Can you find a way out of the island? Or perhaps the local fauna (and flora) will get the best of you?
Old but different
The game is a remake of the 1993 title by the same name. The plot is largely unchanged: Link finds himself somewhat trapped in an unknown island, filled with charming locals and not so friendly enemies. Thus, begins the quest to collect all the musical instruments, awaken the Wind Fish and go home (where Zelda awaits!). But nothing is ever so easy.
Dungeons and more dungeons
Buy the Legend of Zelda: Link's Awakening key and discover the joy of dungeon crawling! No, we are not kidding. There's a certain charm in how the dungeons of the game are implemented. You cannot avoid them, as they are the source of a crucial plot point as well as great rewards. The title also offers an ability to create your own versions of the said dungeons (yes, just like in the recent Mario Maker games!).
Amiibos for even more features
Basically, as you go through the game, you will receive different dungeon rooms, all of which can be connected and linked to design a brand new never-seen-before place to whack those enemies! Buy the Legend of Zelda: Link's Awakening key and be sure to use those amiibos! These Nintendo-based figurines are sure to enhance your dungeon crawling experience tenfold! If you have them, tap them and get unique effects placed on your dungeons, also, be sure to try this feature in a hefty variation of playthroughs! Keep in mind that this is assigned for amiibo figurines that are based on the Legend of Zelda franchise.
Quirky and unique
The art style of the game is something that should be praised! Cute and somewhat surrealistic, this version of Link is free to traverse the vibrant and vivid world, filled with adorable adversaries. You might even find some familiar faces, since the game features well-known enemies from Super Mario! Buy the Legend of Zelda: Link's Awakening key and experience the exciting adventure, as you solve puzzles, collect items and arrange dungeons. The top-down view is perfectly suited for the title (another remnant of the original instalment) and adds to the character of the game.
If you are looking for a game that will be worth your while but won't chain you down with complicated combos or endless endeavour, Link's Awakening is just a brilliant and colourful undertaking.
---
Game details
Single-player

Third-person

Bird-view
---
Genre:
Languages:
English
French
German
Italian
Spanish
---
Release date:
September 20, 2019
---