Far Cry New Dawn (Xbox One) Xbox Live Key EUROPE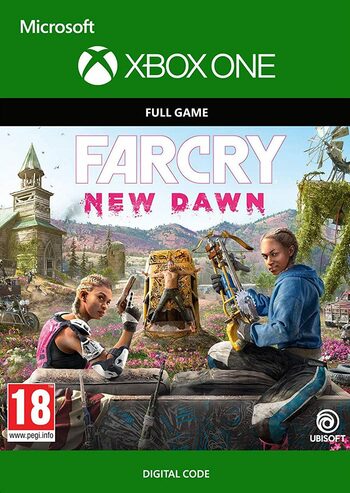 Far Cry New Dawn (Xbox One) Xbox Live Key EUROPE
Europa

Jungtinės Amerikos Valstijos

yra netinkamas regionas aktyvacijai

Patikrink

Aktyvavimo raktas

Tai skaitmeninė produkto versija (CD-KEY)

Momentinis pristatymas
Svarbus pastebėjimas:
No expiration date. The product works ONLY in countries that are located in Europe and are on this list: https://www.xbox.com/en-US/live/countries . Make sure that your account and IP is LOCATED in one of the supported countries!
Žaidėjai taip pat peržiūrėjo
Įvertinimai: 2
Vin Diesel

2021-12-28

Išversta automatiškai

Labai geras žaidimas, ir tęsinys su beprotiškų seserimis ir pasaulyje daugiau spalvinga nei kitų Farcry, tikrai cool cutscenes ir ginklus,

CruelWarrior45

2021-11-28

Išversta automatiškai

Žaidimo istorija įdomi, ji traukia jus progresuojant. Žaidimas yra interaktyvus ir lengvai išmokstamas. Grafika ir garso takelis geras. Žaidimas gerai optimizuotas,
Jums taip pat gali patikti
Far Cry New Dawn
Far Cry: New Dawn is a stand-alone action-adventure sequel game developed by Ubisoft. The action takes place 17 years after the global nuclear catastrophe that has devastated the lands of Hope Country, Montana. The world has changed, new villains have risen to power, and a new fight for the remaining resources starts to ensue. Gather your courage and dive into the epicenter of fast-paced action with Far Cry: New Dawn Xbox one key!
Double-down the Villain Town
The Highwaymen are now the biggest threat in the newly formed Far Cry: New Dawn post-apocalyptic setting. These unpredictable foes are ruled over by two ruthless and savage leaders The Twins. There's not much left in the world devastated by yet one more chaotic event, and it is a widespread fact that when it comes to sharing things, humanity isn't very keen on the idea. Once again you are dragged in a conflict extending far beyond your knowledge and competence, and yet you are the one meant to find the solution. This time, however, you are not alone, as you and your friend can buy Far Cry: New Dawn key and co-op against the outmatching odds together!
Good Ol' Means for Survival
A new fight for survival begins. Buy Far Cry: New Dawn Xbox one key and rush to see the outstanding gameplay everyone is talking about. Innovative narrative masterfully dealing with one of the most prominent themes of survival in the post-apocalyptic world and the promising co-op mode!
• Post-apocalyptic game world. The post-apocalyptic world is vibrant and immersive, offering stunning views that create a frenzied environment telling of a catastrophe that took place;
• Importance of homebase. Build your homebase, upgrade it, recruit various eccentric characters to join your liberation squad, either to fight for your ideals or enhance your base with better technologies and equipment options;
• Catastrophic theme. The narrative is laced with the apocalyptic theme of remaining humans dealing with the after-effects of a lethal catastrophe;
• Engaging co-op. You and your friend can play Far Cry: New Dawn in engaging and immersive co-op mode;
• Cheaper Far Cry: New Dawn price.
Kita informacija
Kalbos

Anglų

Ispanų

Italų

Lenkų

Portuguese - Brazil

Prancūzų

Vokiečių

Čekų

Išleidimo data

2019 m. vasario 15 d.

Leidėjas

Ubisoft

Kūrėjai

Ubisoft Montreal