Wolfenstein: The New Order (uncut) Steam Key GLOBAL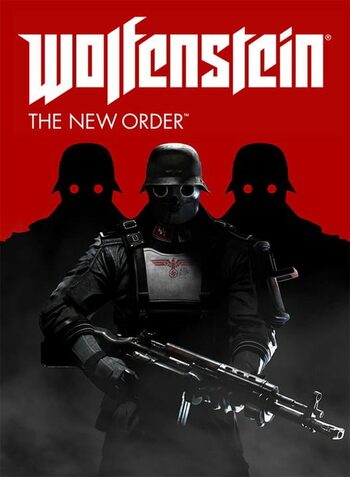 Wolfenstein: The New Order (uncut) Steam Key GLOBAL
Visas pasaulis

Jungtinės Amerikos Valstijos

yra tinkamas regionas aktyvacijai

Aktyvavimo raktas

Tai skaitmeninė produkto versija (CD-KEY)

Momentinis pristatymas
Svarbi pastaba:
Product CAN'T be activated in these countries: Germany, Austria, Japan, Switzerland, Israel
9.83

Nuostabus įvertinimas

(10k+ pardavimų per pastaruosius 6 mėnesius)
Žaidėjai taip pat peržiūrėjo
Įvertinimai: 18
Nano

2020-10-09

Išversta automatiškai

Puikus žaidimas, jis yra linksmas ir pagal kai kuriuos sprendimus galite pakeisti istoriją.

ST

2020-11-29

Išversta automatiškai

Šis žaidimas yra nuostabus adrenalino antplūdis ir vienas geriausių FPS šaulių, kokį tik esu žaidęs. Nuostabi ginklo fizika ir lygio dizainas.

kondzio35

2020-10-28

Išversta automatiškai

"Mega" rekomenduoja šį žaidimą, nors jis yra labai linijinis ir iš pirmo žvilgsnio atrodo paprastas pelavas, čia yra daug siužeto,

kondzio35

2020-10-18

Išversta automatiškai

Žaidimą, net 6 metus po premjeros, mano nuomone, tikrai vertą žaisti, man buvo labai smagu žudyti vokiečius, tačiau jūs turite atsižvelgti į tai,

Dancart

2020-05-09

Išversta automatiškai

Tai nėra demoniškas žudynių festivalis, kurį rasite Doom mieste, tačiau jis vis tiek laikomasi tokio matanazis FPS. Smagu siautėti,
Tau taip pat gali patikti
Prekės aprašymas
Wolfenstein: The New Order (uncut)
Developers of MachineGames present the old time classic shooting game - Wolfenstein: The New Order (uncut) Steam key. It is a fast paced first-person shooter that is more improved and better than the previous games in the franchise. Remember those pesky Nazis? Well, they are back but so are you - William "B.J." Blazkowicz - an American spy of Polish and Jewish descent and one of the biggest threats to Nazi. Time to rally your arms and grab those weapons that have not felt Nazi blood in a long while, enough hesitating - jump straight into action!
Reclaim the lost peace!
It's the 1960's and our protagonist B. J. had gone through some mental difficulties. While he was gone rehabilitating in one of the Polish mental institutions for 14 years, it was enough time for Nazis to win World War II, thus a new order had taken place, meaning resistance was futile. The ever crumbling streets in Wolfenstein: The New Order (uncut) Steam key are not safe from continuous patrols of Nazi and their robotic Nazi dogs. That is not until B. J. snaps out and comes back to his senses, realizing he has a mission to complete - kill every single Nazi. Here you won't just help to reclaim the freedom and crumble the order of Nazis, but you're in for a great deal of action and bloodshed. Throw mercy out of the window since where you're going, it won't be needed.
Major game features
Games that revolt around World War II have their own charm, but this game takes the cake - its gameplay and story telling is different and brings fighting Nazi to another level. In Wolfenstein: The New Order (uncut) Steam key, there won't be plain combat on the field, no, prepare to assault heavily fortified Nazi castles in Germany, sabotage their precious fictional bridge that is between Gibraltar and Africa, toggle with the Nazi advance space program, the list goes on! Despite it being fast-paced combat and quite tense at times, the gameplay does not overwhelm for it offers a wide variety of combat experiences such as:
• Guns blazing and absolute destruction. You know what would be great? If you had 14 different weapons at the same time. Not only that but now you can have the option of dual-wielding weapons!
• Stealth mechanics. Approaching things more silently can reward you with unlockable secrets and at times can be more satisfying and rewarding;
• Unlockable ability perks. This is a thoughtful skill tree that consists of stealth, tactical, assault, and demolition. Unlocking them sharpens your gameplay and overall experience;
• Weapon upgrades. Tired of taking down your enemies with the same old assault rifle? Change it to underslung rockets! Or how about making your shotgun fire shells bounce off walls and see your enemies dance to them? The upgrades do not stop there!
• Cheap Wolfenstein: The New Order price.
So what are you waiting for? Grab Wolfenstein: The New Order (uncut) Steam key and show those Nazis the repercussions of their own actions!
Sistemos reikalavimai
Minimalūs sistemos reikalavimai
Sistemos reikalavimai

64-bit Windows 7 / Windows 8

Procesorius

Intel Core i7

Atmintis

4 GB RAM

Grafika

GeForce 460 / ATI Radeon HD 6850

Talpa

50 GB
Rekomenduojami sistemos reikalavimai
Sistemos reikalavimai

Windows 7

Procesorius

Intel Core i7-930 or AMD Phenom II X6 1090T

Atmintis

4 GB RAM

Grafika

Nvidia GeForce GTX 460 or AMD Radeon HD 6850

Talpa

50 GB
Kita informacija
Kalbos

Anglų

Ispanų

Italų

Japonų

Lenkų

Prancūzų

Rusų

Išleidimo data

2014 m. gegužės 20 d.

Leidėjas

Bethesda Softworks

Kūrėjai

Machine Games

Tinkamas