Įsigykite iš anksto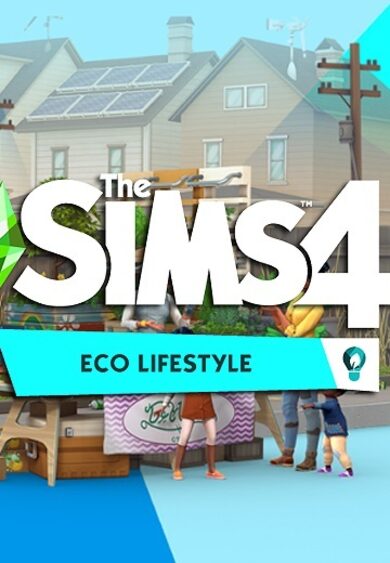 The Sims 4 Eco Lifestyle (DLC) Origin Key GLOBAL
99.82%

iš 500+ įvertinimų yra puikūs!
Gali būti aktyvuota Jungtinės Valstijos
Operacinės sistemos
Išleidimo data:6/5/2020
Svarbi pastaba:
We inform you that our PRE-ORDER bonuses may not be included and when included, may differ from the other offers available in the market. You will receive your product key upon the game's release date: 6/05/2020
Svarbi pastaba:
Žaidimas
The Sims 4 žaidimas
būtinas tam, kad galėtumėte naudotis šiuo papildymu.
2

papildomi pasiūlymai
The Sims 4 Eco Lifestyle (DLC)
Publisher Electronic Arts and developer Maxis continually elaborate upon The Sims 4 with varied, thematic DLCs and now it's time for one of the most ambitious expansions! You've had a chance to build a career, establish or join clubs, become the master of dark arts in the Magic Realm or get a university degree. Now, buy The Sims 4 Eco Lifestyle DLC Origin key and for the first time ever, your sim will be able to engage in activities that benefit the natural environment… or not. Just like in previous expansions, everything ultimately leans on your decision.
Evergreen Harbor
Once you set foot on the new in-game world of Evergreen Harbor, it will be polluted – you'll witness dirty streets and smoggy sky. However, you can change this town and watch it recover due to your efforts! Bring back the harmony with nature and watch the results of your work. Buy The Sims 4 Eco Lifestyle DLC Origin key and turn this place into an environmentally friendly eco-paradise where the citizens can enjoy the magical sights of Aurora Borealis in the cleared night sky.
Environmental effects on all The Sims 4 worlds
While you will be presented with the option to turn off this particular feature in the game's settings, it nevertheless serves as a great opportunity to have a richer and more meaningful experience of The Sims 4. Next expansion introduces a dynamic ecology system – actions you undertake after you buy The Sims 4 Eco Lifestyle DLC Origin key will affect not only the environmental state of Evergreen Harbor but also all the state of other worlds present in The Sims 4, with the exception of vacation destinations and Strangerville. It's not just a pack of new content – The Sims 4 Eco Lifestyle changes the entire world of sims!
Pursue an Eco Lifestyle!
Your sim has an eco footprint that determines both positive and negative effects on the environment. If you don't want to see yourself inhabiting a polluted wasteland, you'll have to recycle waste or use renewable energy sources like wind turbines. All of these activities are far from being chores, as those who buy The Sims 4 Eco Lifestyle DLC Origin key can experiment with unique house customization options when pursuing them! For example, the roof of your home can be covered with solar panels or vegetation while yards can house vertical gardens. All of them serve as awesome ways to reconcile aesthetic beauty with eco-friendly functionality.
---
Žaidimo informacija
Amžius: 12 +

Vieno žaidėjo režimas

Vaizdas iš paukščio skrydžio
---
Žanras:
Operacinė sistema:
Kalbos:
---
Išleidimo data:
June 5, 2020
Kūrėjai
Maxis & Blind Squirrel
Leidėjas
Electronic Arts Inc.
---
Sistemos reikalavimai:
Minimalūs sistemos reikalavimai
Sistemos reikalavimai: 64 Bit Required. Windows 7 (SP1), Windows 8, Windows 8.1, or Windows 10
Procesorius: 1.8 GHz Intel Core 2 Duo, AMD Athlon 64 Dual-Core 4000+ or equivalent (For computers using built-in graphics chipsets, the game requires 2.0 GHz Intel Core 2 Duo, 2.0 GHz AMD Turion 64 X2 TL-62 or equivalent)
Atmintis: At least 4 GB RAM
Grafika: 128 MB of Video RAM and support for Pixel Shader 3.0. Supported Video Cards: NVIDIA GeForce 6600 or better, ATI Radeon X1300 or better, Intel GMA X4500 or better
DirectX: DirectX 9.0, 10 and 11 Compatible
Talpa: At least 15 GB of free space with at least 1 GB additional space for custom content and saved games
Rekomenduojami sistemos reikalavimai
Sistemos reikalavimai: 64 Bit Windows 7, 8, 8.1, or 10
Procesorius: Intel core i5 or faster, AMD Athlon X4
Atmintis: 4 GB RAM
Grafika: NVIDIA GTX 650 or better
Talpa: 18 GB of Hard Drive space