Party Animals (PC) Steam Key GLOBAL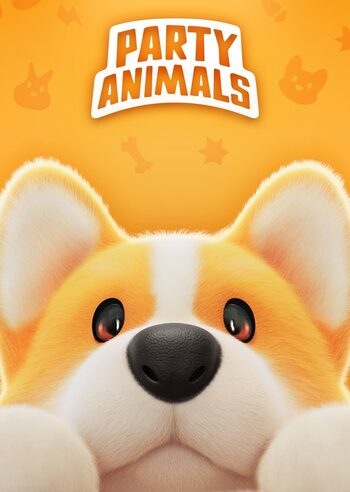 Party Animals (PC) Steam Key GLOBAL
Pigiausias pasiūlymas
Pirkti kaip dovaną
Gauk šią prekę kaip dovaną PDF formatu.
Prieinama atsiskaitant:
Visas pasaulis

Jungtinės Amerikos Valstijos

yra tinkamas regionas aktyvacijai

Aktyvavimo raktas

Tai skaitmeninė produkto versija (CD-KEY)

Momentinis pristatymas
Rekomenduojami atnaujinimai
Patobulinkite savo žaidimų patirtį.
Patobulintas veikimas ir sklandesnis žaidimas
Aukštesnė grafikos kokybė ir raiška
Greitesnis įkėlimo laikas
Mažesnis vėlavimas ir uždelsimas
Suderinamumas su naujausiomis technologijomis
Ilgesnis kompiuterio tarnavimo laikas
Patikrink visus pasiūlymus (2203)
Žaidėjai taip pat peržiūrėjo
Įvertinimai: 0
Prekės aprašymas
Party Animals
Immerse yourself in the wildest, most thrilling game to hit the party scene – Party Animals! Heavily inspired by the indie hit Gang Beasts, Party Animals is perfect for all ages. This game delivers a unique fusion of physics-fueled gameplay and irresistible, cute-as-a-button animal characters bound to awaken the fierce competitor within every kind of gamer, whether you're a beginner or an old hand. Pick your fighter in the form of the cutest digital animal you have ever seen and duke it out in an epic showdown against friends both online and offline! The craziest party starts with Party Animals Steamkey!
Party Animals game features
Check out the gameplay features that will turn Party Animals into an epic game night:
• Physics-based gameplay. Unleash your inner party beast in Party Animals' hilariously compelling physics-based gameplay! Revel in the sheer delight of sending your friends flying helter-skelter with a well-timed push, all while basking in the zany antics of your ragdoll avatars bouncing around the screen. It's fun, chaotic, and undeniably satisfying!
• Adorable animal characters. Meet the heart-meltingly adorable critters of Party Animals that will steal your heart, even as they are trying to outwit you in the game! Each one, endearing in their own way, will have you cheering for your favorite furry contender, regardless of the chaos ensuing around you;
• Variety of game modes. Prepare for endless entertainment with an eclectic mix of game modes. From fiercely competitive modes that'll test your skills to laid-back ones perfect for a casual gaming night, there's something for every mood and every type of gamer;
• Custom game modes. Let your imagination run wild with the ability to create your own custom game modes. It's your chance to dial up the chaos or notch up the competition – the power to set the tone of the party lies right at your fingertips;
• Weapons! Wage havoc with an arsenal of unconventional weapons. From swinging nunchucks with swift precision, bashing with pans for that loud 'clang', aiming crossbows with playful accuracy, to brandishing plungers in the most comic battles – the mayhem never ends!
• Cheap Party Animals price.
Let's get this party started!
Dive headfirst into a raucous, fun-filled competition with your buddies across an array of captivating game modes! Throw down in the tug-o-war-esque Snatch Squad, reign supreme in King of the Hill, or fight for survival in the high-octane Deathmatch. Fancy a custom experience? Stir the pot with your own game modes and ramp up the pandemonium to the next level. Brimming with infectious hilarity and pure, unadulterated joy, Party Animals is a testament to the spirit of carefree fun. Whether you're seeking a platform to let off some steam with your friends or on the hunt for an exhilarating good time, Party Animals is your ultimate gaming destination. Prepare yourself for a laughter riot like never before because, in Party AnimalsSteam key, the wild side takes center stage!
Sistemos reikalavimai
Minimalūs sistemos reikalavimai
64 bitų palaikymas

Taip

Sistemos reikalavimai

Windows 10, 64-bit / Windows 11

Procesorius

Intel Core i5 / AMD

Atmintis

8 GB RAM

Grafika

NVIDIA GTX 750-Ti / AMD RX 550, 2GB VRam

DirectX

11

Talpa

8 GB
Kita informacija
Kalbos

Anglų

Simplified Chinese

Traditional Chinese

Išleidimo data

2023 m. rugsėjo 20 d.

Leidėjas

Source Technology

Kūrėjai

Recreate Games

Tinkamas