NBA 2k19 (20th Anniversary Edition) Steam Key EUROPE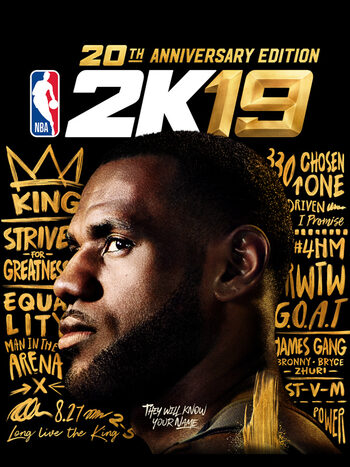 NBA 2k19 (20th Anniversary Edition) Steam Key EUROPE
Europa

Jungtinės Amerikos Valstijos

yra netinkamas regionas aktyvacijai

Patikrink

Aktyvavimo raktas

Tai skaitmeninė produkto versija (CD-KEY)

Momentinis pristatymas
Svarbi pastaba:
Play ranked or online league games is no longer supported. Only offline play modes are available.
Žaidėjai taip pat peržiūrėjo
Įvertinimai: 0
Tau taip pat gali patikti
Prekės aprašymas
NBA 2k19 (20th Anniversary Edition)
Are you ready to take on greater challenge? Check out NBA 2K21 Steam key and buy the newest addition to the series!
The NBA 2K19 20th Anniversary Edition includes the following digital items:
• 100,000 Virtual Currency
• 50,000 MyTEAM points
• 20 MyTEAM League Packs (delivered one a week)
• 10 MyTEAM Heat Check Packs (delivered one a week beginning at the start of the NBA season)
• Sapphire LeBron James and Sapphire Giannis Antetokounmpo MyTEAM cards
• 5 LeBron-themed murals for MyCOURT
• LeBron MyCOURT design
• King's Collection - Nike LeBron apparel & footwear (25 pairs!)
NBA 2K19 (20th Anniversary Edition) key brings the 20th instalment to the dominant basketball simulation series developed by Visual Concepts. The basketball juggernaut, as they do with each release, continues to narrow down the gap between reality and virtuality one step, or rather, one release at a time.
Takeover Control!
With the new Takeover feature, your MyPLAYER can now unlock special moves and abilities that you've yet to see being performed. Or unleash Team Takeover and show the capabilities of your entire crew! NBA 2K19 (20th Anniversary Edition) key price is not even worth your consideration, it's a real bargain!
Neighbourhood Is Where It's At!
The Neighbourhood has been updated, each day is more important than the last. You can't let a second slip by as you try to put your name out there! Ball it out at the Under-Armour Cages, live events and a variety of courts! Buy NBA 2K19 (20th Anniversary Edition) Steam key, form a crew and try some 3 vs 3 streetball action, it's rough, it's fast and outlawish, exactly the way you remember. And new shifting day and night cycle is the sole reminder to get some rest!
NBA 2K19 key changes MyTEAM Player Cards
Your time has come, create your very own MyPLAYER card and ball against the biggest names out there in many competitive modes with NBA 2K19 key. For example, in the new Unlimited mode you'll be able to pick five cards from your deck, restriction-free, and challenge other players online! Cards offer potential, but only keys can unlock it! NBA 2K19 (20th Anniversary Edition) Steam key is yours for the taking, unlock the single best basketball game out there!
MyCAREER
Climb the ladder until you reach the very top! The career story mode is back with an all-new journey starting from China to G League, right to the court of NBA! NBA 2K19 (20th Anniversary Edition) Steam key adds new elements to team chemistry, recommendations and support based on your popularity and licensed all-star cast! Thanks to all these additions you will dribble, jump, and dunk faster, higher and harder than ever before!
Sistemos reikalavimai
Minimalūs sistemos reikalavimai
Sistemos reikalavimai

Windows 7 64-bit, Windows 8.1 64-bit or Windows 10 64-bit

Procesorius

Intel® Core™ i3-530 @ 2.93 GHz / AMD FX-4100 @ 3.60 GHz

Atmintis

4 GB

Grafika

NVIDIA® GeForce® GT 450 1GB / AMD® Radeon™ HD 7770 1GB

Talpa

80 GB
Rekomenduojami sistemos reikalavimai
Sistemos reikalavimai

Windows 7 64-bit, Windows 8.1 64-bit or Windows 10 64-bit

Procesorius

Intel® Core™ i5-4430 @ 3 GHz / AMD FX-8370 @ 3.4 GHz

Atmintis

8 GB

Grafika

NVIDIA® GeForce® GTX 770 2GB / AMD® Radeon™ R9 270 2GB

Talpa

80 GB
Kita informacija
Kalbos

Anglų

Ispanų

Italų

Japonų

Korėjiečių

Prancūzų

Simplified Chinese

Traditional Chinese

Vokiečių

Išleidimo data

2018 m. rugsėjo 11 d.

Leidėjas

Take 2 Interactive

Kūrėjai

Visual Concepts

Tinkamas