Grand Theft Auto : The Trilogy (2006) Steam Key GLOBAL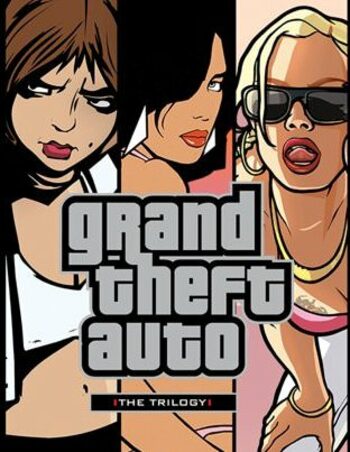 Grand Theft Auto : The Trilogy (2006) Steam Key GLOBAL
Visas pasaulis

Jungtinės Amerikos Valstijos

yra tinkamas regionas aktyvacijai

Aktyvavimo raktas

Tai skaitmeninė produkto versija (CD-KEY)

Momentinis pristatymas
Svarbi pastaba:
We inform you that this product is NOT the newly released GTA: The Trilogy – Definitive Edition. Before you buy, please make sure that it is the right Grand Theft Auto Trilogy version for you. Product CAN'T be activated in these countries: United Arab Emirates, Bahrain, Brunei Darussalam, Bulgaria, China, Cuba, Egypt, Iran, Jordan, Democratic People's Republic of Korea, Kuwait, Lebanon, Myanmar, Oman, Qatar, Saudi Arabia, Sudan, Samoa, Syrian Arab Republic, Thailand, Venezuela, Yemen, Japan, South Africa, Australia, Germany.
Žaidėjai taip pat peržiūrėjo
Įvertinimai: 7
Vladoz16

2021-03-08

Išversta automatiškai

Neįtikėtini žaidimai ir puikios istorijos per 3 skirtingus veikėjus, miestus ir misijas. Koks žaidimas! Tiesiog nepaprastai neįtikėtinas žaidimas.

Philip

2022-05-01

Išversta automatiškai

Tai geriausia GTA EVER CLsic GTA III, GTA Vice City ir GTA San Andreas! Tai buvo mano vaikystė, epiniai prisiminimai! Verta jį nusipirkti dėl epinės kolekcijos!

Seba

2022-05-12

Išversta automatiškai

Linksmas žaidimas. Trilogija yra geresnė nei dabartinės versijos. Pirmieji trys žaidimai GTA San Andreas, GTA III,

AIRONGLITCH

2021-12-16

Išversta automatiškai

Tai viena geriausių vaizdo žaidimų trilogijų. Visą "Grand Theft Auto" sagą tiek solo, tiek internete skiriu 10. "RockstarGames" žino, kaip elgtis.

Güicho

2022-11-20

Išversta automatiškai

Geriausios šių trijų kriminalinių atvirojo pasaulio klasikų versijos. Tiek jo techninis aspektas, tiek misijos dizainas, tiek žaidimo eiga,
Tau taip pat gali patikti
Prekės aprašymas
Grand Theft Auto: The Trilogy Steam Key
Rockstar Games presents a generous package that includes three essential game keys to old-school GTA franchise:
These keys give access to the nostalgia-soaked GTA trilogy games - do not mix them up with the recently released RockStar GTA The Trilogy (Definitive Edition) key.
The critically acclaimed titles all come in the Grand Theft Auto: The Trilogy Steam key, granting fundamental GTA experience that every fan of the franchise must have gone through at least one. All the iconic characters and missions are waiting for you to join them in the criminal shenanigans in search of your rightful spot in the underworld. If you are new to the franchise, then the deal is even more lucrative because you get all three games in one at a much cheaper price!
Grand Theft Auto 3
Memory Lane is just another name for Liberty City! Come back to the time when Grand Theft Auto became the 3D real-world action game we know today and it's okay get emotional! Grand Theft Auto 3 is a 2002 classic, full of unique characters in a dark yet humorous story full of mind-blowing plot twists. The first of its kind and a gem of Grand Theft Auto: The Trilogy key package, GTA 3 has set the standard for open-open world games for years and still remains one of the most prominent open-world games that engage for hours of gaming and exploration. Come back to the hood nearly two decades later and see if much has changed - nostalgia trip guaranteed!
Grand Theft Auto: Vice City
Grand Theft Auto: Vice City is a game that could best be described as a legend among legends. It's the title that truly brought the Grand Theft Auto franchise on top of the list! If you want to get a taste of gaming history, you should definitely try this old school action roller coaster out for a spin. Urban open-world up for your exploration, engaging missions, distinguished characters, and a mesmerizing experience that keeps making gamers return to the title as if it's an old friend!
Grand Theft Auto: San Andreas
Probably the main star of the Grand Theft Auto: The Trilogy key is none other than Grand Theft Auto: San Andreas. You assume the role of legendary Carl Johnson, a former gang member, returning to the city of Los Santos to avenge his mother's murder and bring back the power in the streets for yourself and your family! However, a story packed with murder and corruption sees you extend far out of your range through the whole state of San Andreas as you seek revenge!
Sistemos reikalavimai
Minimalūs sistemos reikalavimai
Sistemos reikalavimai

Microst Windows XP / VISTA / 7

Procesorius

1 Ghz Pentium III / AMD Athlon

Atmintis

256 MB RAM

Grafika

64 MB

Talpa

4.7 GB
Kita informacija
Kalbos

Išleidimo data

2013 m. sausio 8 d.

Leidėjas

Rockstar Games

Kūrėjai

Rockstar North

Tinkamas