Football Manager 2020 Steam Key GLOBAL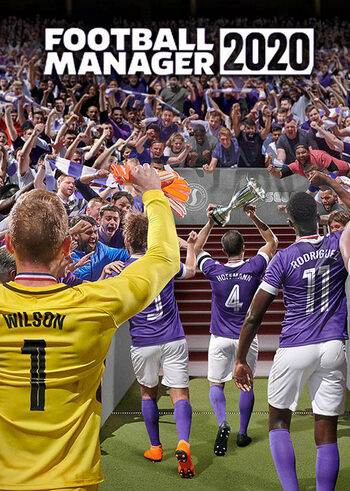 Football Manager 2020 Steam Key GLOBAL
Visas pasaulis

Jungtinės Amerikos Valstijos

yra tinkamas regionas aktyvacijai

Patikrink

Aktyvavimo raktas

Tai skaitmeninė produkto versija (CD-KEY)

Momentinis pristatymas
Žaidėjai taip pat peržiūrėjo
Įvertinimai: 1
Nuno

2020-08-30

Išversta automatiškai

Jis turi tam tikrų skirtumų tiek žaidimo variklio, tiek grafikos atžvilgiu, tačiau jis seka "lėtą" franšizės raidos modelį. Bet kokiu atveju,
Tau taip pat gali patikti
Football Manager 2020 Steam key
Are you ready to take on greater challenge? Check out Football Manager 2021 Steam key and buy the newest addition to the series!
Have you ever stared in disgust at the strategies your favourite football team employed? Do you think you can do a better job than those gesturing fools on the side of the pitch? Well, buy Football Manager 2020 Steam key and prove your superior strategies! Become a manager, represent your club, craft tactics and reap the rewards – or suffer the consequences for the missteps. It's all on you now.
Your manager, your way
When you start the game, you will be able to select your base of operations (pick from the great list of football-loving countries) and begin your career. Ensure the best management of your club as you choose from more than two-thousand clubs, and try to build an empire for yourself. But remember all your choices matter and you have to be mindful of the changing rules of the game; buy Football Manager 2020 Steam key and make decisions that will make or break the club; and if everything sinks or rises, you will be at the forefront either way.
Scout new talent
The game presents more than 500,000 real players and staff you can recruit to your team. While your decisions are all on you, there are also people who will be able to advise you. The game thrives to bring the backroom experience as close to the real deal as possible. With your staff interacting with each other and you, the structure and vision of your club are more defined than ever. Buy Football Manager 2020 Steam key and find out that staff members are not the only people you can recruit. Search out the young talent, mould them into the world-renown stars and establish both their legend and your legacy.
Club vision
Decide the future of your club, envision what goals you might reach and strive for them. The board will have their demands, and you will have to navigate those plans with real achievements. And only successful execution of the vision will create a good culture for your whole team. With transfers, playstyles and even set conditions that should be won, buy Football Manager 2020 Steam key and move further along the ladder towards the ultimate success.
Sistemos reikalavimai
Minimalūs sistemos reikalavimai
Sistemos reikalavimai

Windows 7 (SP1), 8/8.1, 10 ( 1803/April 2018) – 64-bit

Procesorius

Intel Pentium 4 (64-bit), Intel Core 2 or AMD Athlon 64 – 2.2 GHz +

Atmintis

2 GB RAM

Grafika

Intel GMA X4500, NVIDIA GeForce 9600M GT or AMD/ATI Mobility Radeon HD 3650 – 256MB VRAM

Talpa

7 GB

Papildomos pastabos

Requires a 64-bit processor and operating system
Kita informacija