Darksiders 2 (Deathinitive Edition) Steam Key GLOBAL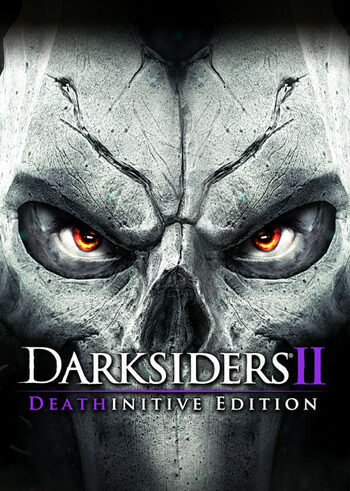 Darksiders 2 (Deathinitive Edition) Steam Key GLOBAL
Visas pasaulis

Jungtinės Amerikos Valstijos

yra tinkamas regionas aktyvacijai

Patikrink

Aktyvavimo raktas

Tai skaitmeninė produkto versija (CD-KEY)

Momentinis pristatymas
Žaidėjai taip pat peržiūrėjo
Įvertinimai: 3
Lyubphim

2020-07-25

Išversta automatiškai

Nuostabus žaidimas. Vertas tęsinys 😁

Darsiders

2022-09-25

Išversta automatiškai

labai geras žaidimas, priklausomybę sukelia mano gera mechanika, daugiau nei tinkama grafika, muzika labai gera ir ji labai gerai optimizuota, nepaisant to,

ketinG2

2022-08-06

Išversta automatiškai

Tikrai geras žaidimas! Man tai labai patinka, ir tai puikus pirmojo Darksiders Warmastered Edition tęsinys. Jau nekantrauju sužaisti trečią!
Tau taip pat gali patikti
Darksiders 2 (Deathinitive Edition)
Darksiders 2 (Deathinitve Edition) key includes:
• Darksiders 2 with all DLC integrated into the main gameplay;
• Reworked and tuned game balancing, including better loot distribution;
• Higher visual quality because of the improved Graphic Render Engine;
• Native 1080p resolution;
• Reworked levels, characters, textures, environments, and more;
• Steam Trading Cards;
• Cheap Darksiders 2 (Deathinitive Edition) price.
Follow Death, a horseman of the Apocalypse, and his exploits in this action-packed release created and published by Nordic Games - Darksiders 2 (Deathinitive Edition) Steam key! This hack & slash adventure runs parallel to the story of the original Darksiders and propels players across various environments, most notably "The White City", an angel outpost, and "The Eternal Throne", the fortress of the Lords of the Dead.
Become Death
Embody the terrifying force that no living being can escape and one of the most feared Horseman of the Apocalypse. In this universe, Death is awakened by the End of Times and must embark on a quest to redeem his brother War, who was blamed for prematurely starting the Apocalypse that happens in Darksiders. With Darksiders 2 (Deathinitive Edition) Steam key you're going to wield the iconic Death Scythe and engage in incredibly quick-paced battles that combine melee & ranged attacks for a truly immersive & fun combat experience.
Deathinitive Edition improvements
Destroy entire worlds and battle both Heaven and Hell forces for the sake of your brother with Darksiders 2 (Deathinitive Edition) key! This vast open-world is delivered in the unique style of Joe Mad. Players customize their character & skills, armour sets, weapons, and more for a true gameplay experience. Darksiders 2 (Deathinitive Edition) key builds upon Darksiders 2 by:
• Raising the native resolution to 1080p;
• Reworking and tuning game balancing and loot distribution;
• Improving the Graphic Render Engine, which provides a higher visual quality, better lighting & shadows, plus more;
• Improving character, environment, level models & textures.
Sistemos reikalavimai
Minimalūs sistemos reikalavimai
Sistemos reikalavimai

Windows XP / Vista / Windows 7

Procesorius

2.0 GHz - Intel Core 2 Duo

Atmintis

2 GB RAM

Grafika

512 MB RAM - Nvidia 9800 GT

Talpa

20 GB
Rekomenduojami sistemos reikalavimai
Sistemos reikalavimai

Windows 7, Windows 8 or Windows 10 (64bit)

Procesorius

Any Quad-core AMD or Intel

Atmintis

8 GB

Grafika

NVIDIA GeForce GTX 260 512MB or AMD

Talpa

13 GB
Kita informacija
Kalbos

Anglų

Ispanų

Italų

Lenkų

Olandų

Prancūzų

Rusų

Vokiečių

Čekų

Išleidimo data

2015 m. lapkričio 6 d.

Leidėjas

Nordic Games Publishing

Kūrėjai

Nordic Games

Tinkamas