L.A. Noire: (Complete Edition) Rockstar Game Launcher Key GLOBAL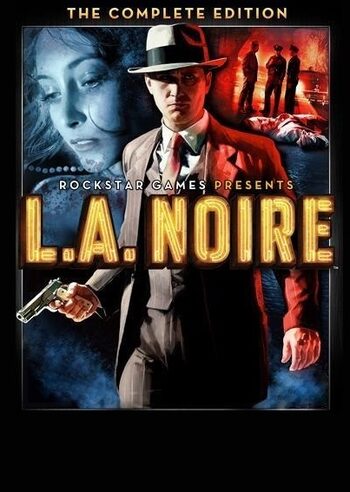 L.A. Noire: (Complete Edition) Rockstar Game Launcher Key GLOBAL
Visas pasaulis

Jungtinės Amerikos Valstijos

yra tinkamas regionas aktyvacijai

Patikrink

Aktyvavimo raktas

Tai skaitmeninė produkto versija (CD-KEY)

Momentinis pristatymas
Žaidėjai taip pat peržiūrėjo
Įvertinimai: 3
FFGamer04

2020-06-17

Išversta automatiškai

Puikus žaidimas, tačiau dėl to, kad senas, grafika yra šiek tiek pasenusi

Junglian

2020-11-16

Išversta automatiškai

Unikalus žaidimo būdas. Tai geriausias išbandytas kriminalistinis žaidimas. Tikimės, kad sulauksime daugiau tokių žaidimų. Jei esate pasirengęs atkreipti dėmesį,

KRM1212

2021-03-24

Išversta automatiškai

Žaidimas "L.A.Noire" yra labai ilgas, todėl jis tikrai to vertas. Veido animacijos yra labai įspūdingos, o žaidimas kuriamas su aistra.
Tau taip pat gali patikti
Prekės aprašymas
L.A. Noire: (Complete Edition) key
L.A. Noire: (Complete Edition) key includes:
• L.A. Noire base game;
• L.A. Noire: DLC bundle.
Rockstar games present a charming 50s game saturated with noir atmosphere and thrilling action. Detective investigations, violent crimes and a gloomy setting deliver an engaging experience for the fans of the genre. Buy L.A. Noire: (Complete Edition) key and you will be set out to look for clues, interrogate suspects, chase deprived silhouettes in ghastly streets of the city that seem to breathe mystery and dark, disturbing secrets. For a detective such as yourself, no case is impossible!
Gothic setting, immersive story
Once you start the game, you will find yourself in the USA of the 50s, but do not be mistaken – its is not the same 1950s you see in old vintage posters beaming with smiling faces and flashing with colours. The dark, noir-like setting of the city creates a perfect mood for detective investigations dealing with corrupt society, booming drug trade and repulsive crimes. L.A. Noire: (Complete Edition) key delivers an immersive narrative to follow as you make decisions, advance in your crime investigations and deal with underworld wolves. Authentic noir experience is a must-to-do for players who love gripping stories and gameplays that involve decision-making and strategizing!
Seamless gameplay
In L.A. Noire: (Complete Edition) PC, you assume the role of World War II veteran named Cole Phelps, whose career is developing at an astonishing rate. The adventurous neo-noir crime game is played from third-person point of view, granting a greater field vision necessary for proper investigations. The open world experience is one of the greatest aspects granted by L.A. Noire: (Complete Edition) key, solely because of the well-polished setting that creates an intense, gothic atmosphere and sets up a perfect mood for players to get into. Besides, the game contains a mode that allows players to wander the in-game world freely, without having to follow the main story.
Major gameplay features
L.A. Noire: (Complete Edition) key delivers an interactive gameplay with immersive and atmospheric open-world for one of the greatest neo-noir experiences in the gaming industry!
• Open-world. L.A. Noire: (Complete Edition) presents an interactive open-world with perfectly dark mood lingering all around as you deal with the dark side of the city;
• High-quality visualization. High-quality graphics, stunning visuals and detailed facial expressions create a satisfactory gaming experience even for the pickiest;
• Rich narrative. The game contains not only an engaging story where your decisions bear impact but also offers a closer look at the processes of the underworld networks in action;
• Cheaper L.A. Noire: (Complete Edition) price.
Sistemos reikalavimai
Minimalūs sistemos reikalavimai
Sistemos reikalavimai

Windows 7

Procesorius

Intel: Core 2.2 GHz to Quad Core 3.2GHz / AMD: Dual Core 2.4Ghz to Quad Core 3.2Ghz

Atmintis

2GB to 8GB

Grafika

NVIDIA GeForce 8600 GT 512MB to NVIDIA GeForce GTX 580 1536MB or Radeon HD3000 512MB to Radeon HD 6850 1024MB

Talpa

16GB
Kita informacija
Kalbos

Išleidimo data

2013 m. lapkričio 8 d.

Leidėjas

Rockstar Games

Kūrėjai

Team Bondi / Rockstar Leeds

Tinkamas