RuneScape 45 Day Membership + 1 Bond Key EUROPE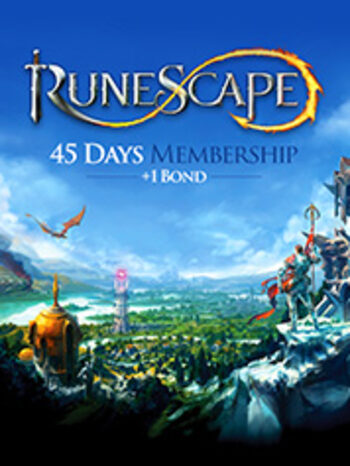 RuneScape 45 Day Membership + 1 Bond Key EUROPE
Pigiausias pasiūlymas
Pirkti kaip dovaną
Gauk šią prekę kaip dovaną PDF formatu.
Ieškai gerų pasiūlymų?
Gauk juos tiesiai į savo el. paštą
Prieinama atsiskaitant:
Europa

Jungtinės Amerikos Valstijos

yra netinkamas regionas aktyvacijai

Aktyvavimo raktas

Tai skaitmeninė produkto versija (CD-KEY)

Momentinis pristatymas
Svarbus pastebėjimas:
This product has no pre-set expiration date. To activate visit: www.runescape.com
9.90

Nuostabus įvertinimas

(200k+ pardavimų per pastaruosius 6 mėnesius)
Žaidėjai taip pat peržiūrėjo
Prekės aprašymas
RuneScape Memberships 45 Day + 1 Bond Key
What can possibly be better than the ability to unlock premium content to enhance your RS experience and enjoy only the best? RuneScape membership is activated on your RS account and is suitable for both Old School RuneScape (OSRS) and RuneScape 3 (RS3), making the subscription flexible. RuneScape 45 Day Membership grants you member-exclusive gameplay features and other benefits for the span of 45 days to enjoy the best of RS! Utilize the cheap RuneScape membership cost and buy a subscription to enhance your RS experience tenfold!
Is it worth getting a RuneScape membership?
Being a premium player will give you access to hundreds of new quests. Buy RS membership, carry on with your hero's journey, gather the powerful rewards, and work towards unlocking your true potential. Probably one of the most important aspects regarding these quests is that most of them will not be accessible to anyone who is not a member. Therefore, they also provide exclusive items, as well as help you level up. If you want to get the most out of your game, you should buy cheap RuneScape membership and discover all the secrets that the new locations have to offer!
What is the value of Bonds?
Runescape Bonds are in-game items, tradable to fellow players, and redeemable for membership, unlocking the ability to fund your adventures using your in-game wealth. Bonds are also redeemable for these items or features:
• Membership packages;
• Portable Traders;
• RuneMetrics Pro;
• Treasure Hunter Keys;
• RuneCoins;
• Character name change;
• And more!
Are your Old School RuneScape bonds applicable for RuneScape 3? No, your OSRS Bonds are only applicable to Old School RuneScape. Buy RuneScape Memberships 45 Day + 1 Bond key and receive not only membership with all the premium features and content but also 1 Bond that you can use to snatch one of these amazing in-game items or features! RS Bonds are of immeasurable value in the universe of RuneScape, so this deal is simply a must-have for a hardcore RS fan.
Always busy
The game offers a variety of activities for all tastes. Some of them are hunting tasks, gathering errands, or even minigames – each offers different types of rewards, as well as gives the player a chance to experience separate layers of the game. Relaxed gameplay in towns and during the events (access to which is also a boon to members) may be replaced by an exciting boss hunt in the middle of the dark forest. It is safe to say there is never a dull moment once you buy RuneScape membership!
Acquire new knowledge
Another big thing that membership will give you is a whole new skillset. From crafting abilities to battle utilities, you can further customize your character, making in the best version it can be. And remember, these are exclusively locked within the membership. But the new additions are not the only gift you'll be receiving. Most of your previous F2P skills will be upgraded, making them more powerful and intricate. You will be able to make armour that non-member can only dream of, as well provide a fitting arsenal for yourself as you prepare for the harder locales. Make the best use of cheap RuneScape membership cost and forget the struggle to stay relevant or fighting for resources, your membership will take care of it for you.
How do I activate a RuneScape digital code?
Whether it is a RuneScape membership, a RuneScape pre-paid card or any other RuneScape code you wish to redeem, follow the steps provided below:
• Go to the official store section on

www.runescape.com

;
• Subsequently click on the option 'Activate Pre-Paid Card';
• Log in at your RuneScape account;
• Enter the code at the option 'Enter Pre-Paid Card Code' that you will find in your e-mail after a successful purchase at our store;
• Confirm the order with the 'Redeem' option.
Kita informacija
Išleidimo data

2012 m. birželio 16 d.

Leidėjas

Jagex

Kūrėjai

Jagex