Far Cry 5 Green Gift Key EUROPE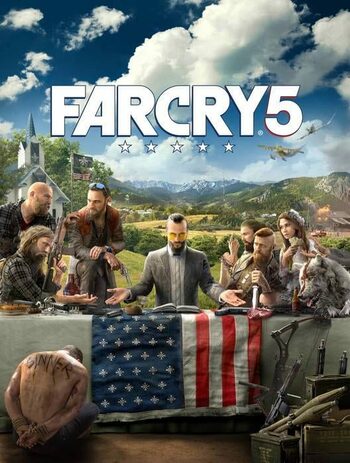 Far Cry 5 Green Gift Key EUROPE
Europa

Jungtinės Amerikos Valstijos

yra netinkamas regionas aktyvacijai

Patikrink

Aktyvavimo raktas

Tai skaitmeninė produkto versija (CD-KEY)

Momentinis pristatymas
Svarbus pastebėjimas:
You will receive code that needs to be activated to separate website! Make sure to follow instructions on the product page!
Žaidėjai taip pat peržiūrėjo
Įvertinimai: 0
Jums taip pat gali patikti
Far Cry 5 Green Gift Key
Follow the steps to activate the game:
1. Go to this website.
2. Log in / register a new account.
3. Enter your Green Gift in the code box and click "Apply"
4. You'll get a pop up showing details about the product you are redeeming. Click the "Redeem" button to continue.
5. Upon purchase, you will be asked to log in to your Green Gift account through an API which will grant you access to the game.
6. You will be prompted to confirm the redemption of the game and on which account it will be redeemed.
7. Once redeemed, your game will appear in your Green Gift account.



Far Cry 5 Green Gift key brings an open-world action-adventure FPS game developed by Ubisoft. It's a standalone successor to its prequels, with a branching storyline, side quests, co-op mode, map editor and even a competitive multiplayer! The game presents a thrilling narrative with one of the series best antagonists, plenty of plot twists, and more!
Dem Cults Are Takin'Over
Buy Far Cry 5 Green Gift key and dive straight into the action in a fictional area in Montana, where a cult has overtaken the lands! You play as the nameless sheriff, whom you create and customize yourself. It's your job to cleanse the lands from the plague of psychotic cultist propaganda! And be sure, this ride won't be an easy one.
Supreme Righteousness
Buy Far Cry 5 Green Gift key and use an array of weapons from melee-based such as shovels to a full modded sniper rifle! Hijack muscle cars and planes along with many other vehicles, to surprise the culprits with your thriving hunger for righteousness! Even though the cultists in the game are led by a really fierce leader, your role in this whole deal is not the least bit less scary too!
It's All About Friendship
Buy Far Cry 5 Green Gift key and co-op with your friends to dish out assaults from multiple angles, to unleash the wrath of justice upon the infidels, or customize your own maps using the assistance from a vast bunch of Ubisoft games! Whichever is your preferred case, the game is a definite up-for-grabs because of its thrilling storyline, unique characters, and experiences that really can't be found anywhere else!
Sistemos reikalavimai
Minimalūs sistemos reikalavimai
Sistemos reikalavimai

Windows 7 SP1 64 bit

Procesorius

Intel Core i5-2400

Atmintis

8 GB RAM

Grafika

NVIDIA GeForce GTX 670

Talpa

40 GB
Rekomenduojami sistemos reikalavimai
Sistemos reikalavimai

Windows 10 64-bit

Procesorius

Intel Core i7-4770

Atmintis

8 GB RAM

Grafika

NVIDIA GeForce GTX 970

Talpa

40 GB
Kita informacija
Kalbos

Anglų

Ispanų

Italų

Lenkų

Prancūzų

Vokiečių

Išleidimo data

2018 m. kovo 27 d.

Leidėjas

Ubisoft

Kūrėjai

Ubisoft Studios

Tinkamas