PlayStation Network Card 20 USD (USA) PSN Key UNITED STATES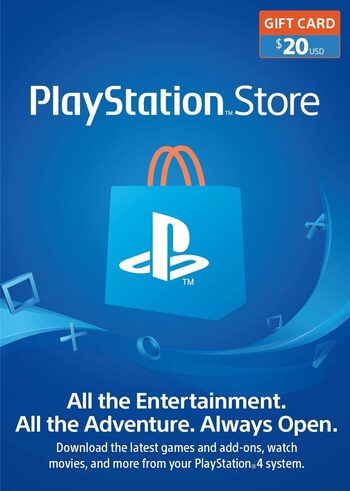 PlayStation Network Card 20 USD (USA) PSN Key UNITED STATES
Cheapest offer
Selected:

20 USD
Price is not final
Legalacsonyabb ár
Available at checkout:
Egyesült ÁllamokAktiválható itt:

Amerikai Egyesült Államok

Digitális kulcs

Ez a termék a(z) (CD-KEY) fizikai kiadása

Azonnali szállítás
Ezen működik:
PlayStation 3
PlayStation 4
PlayStation 5
Fontos közlemény:
No expiration date. Code is valid only for the United States PSN store. Make sure that your account is registered to United States.
Termékleírás
Is 20 PSN card worth it?
Add 20 USD to a selected PSN account by purchasing the PlayStation gift card 20 USD (20 PSN card) code for the United States region. Expand your possibilities on the PlayStation Network or do the same for the person of your choice. Buying a PSN card is a simple, quick and a safe way to enjoy your PlayStation console to the absolute fullest! There's no basis for hesitation – here are some of the awesome benefits that come along with this purchase.
Surprise a PlayStation gamer with a PSN card!
The original purpose of a PlayStation gift card is for it to be given as a present. While you can certainly use the 20 PSN card for your own needs, it remains convenient to remember that the PlayStation voucher suits any occasion when it comes to gifts. Gamers of this platform will always find ways to use the funds provided by the card to the fullest extent, in turn making it a gift that rewards them with generous freedom of choice. Have no doubt that a gift card like this one will always be appreciated by any PlayStation owner.
PlayStation Network products
By purchasing a 20 PSN card one should always keep in mind that PlayStation platform is not limited to gaming alone. Aside from an awesome selection of PlayStation video games and DLC the Sony Entertainment Network Store also features a wide selection of music, movies, TV shows, add-ons, and a variety of subscription services among which you'll find PlayStation Now or things like the PS Plus card. Tap into the full potential of PlayStation platform!
PlayStation gift card has no time limit
There are multiple ways by which the PlayStation gift card (20 PSN card) helps you gain more by spending less. First and foremost, PSN voucher keys don't have a stable price, which means that you can buy them cheaper than the monetary value it provides on the PlayStation store. On top of that, a digital PSN card key has no expiration date which means that you can buy the code now and keep it indefinitely so that you won't have to spend more of your savings in the future.
Increase the total amount of PSN wallet funds
Maybe the value 20 PSN card might not be enough for some of the latest triple-A gaming titles but it nevertheless adds to the total amount of funds kept on the PSN account wallet. If you're giving the 20 USD PlayStation gift card to a friend, you might help them save up to that one particular game they wanted. Finally, if for some reason the 20 USD card simply won't cut it, here at the Eneba you can find more United States region PSN gift cards of varying values to choose from: 10 USD, 25 USD, 50 USD and 100 USD. No matter which one you pick, the code redeeming procedure remains the same as the one given below.
Activation process:
• Open a Sony Network Entertainment account on PSN (or use your existing Sony Entertainment Network account);

• Select the

PlayStation®Store icon on

the PS4™ system home screen;

• When on the PlayStation Store, select

Redeem Codes

at the bottom of the menu;

• Enter the key code you've received in your email;

• Select

Continue

on the dialog box;

• Select

Confirm

to accept the terms and services pop-up;

• Click Continue

to complete the 20 PSN card code activation!
Egyéb részletek
Megjelenés dátuma

2013. november 29.

Kiadó

Sony Online Entertainment

Fejlesztők

Sony Online Entertainment