PlayStation Network Card 45 USD (USA) PSN Key UNITED STATES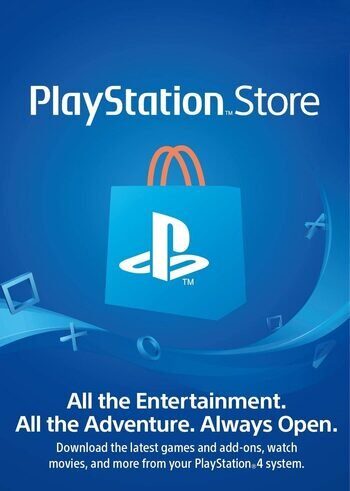 PlayStation Network Card 45 USD (USA) PSN Key UNITED STATES
Cheapest offer
Selected:

45 USD
Price is not final
Legalacsonyabb ár
Available at checkout:
Egyesült ÁllamokAktiválható itt:

Amerikai Egyesült Államok

Digitális kulcs

Ez a termék a(z) (CD-KEY) fizikai kiadása

Azonnali szállítás
Ezen működik:
PlayStation 3
PlayStation 4
PlayStation 5
Fontos közlemény:
No expiration date. Code is valid only for the United States PSN store. Make sure that your account is registered to United States.
Termékleírás
Is 45 PSN card worth it?
Buying the PlayStation gift card (45 PSN card) key for the United States will increase the total amount of funds present in either your own PlayStation Network account wallet or that of a person of your choice. Whether it is a friend, a family member, or yourself, purchasing a PSN gift card key remains the safest, easiest and most convenient way to shop on Sony Entertainment Store. Load the PSN account with 45 USD to unlock new possibilities on the PlayStation platform!
Enjoy everything PlayStation Store has to offer!
The PlayStation console gives provides people with the opportunity to enjoy some of the most iconic video games in the entire gaming industry, including a variety of exclusive series. But a value 45 PSN card can reward you with more than just games or their DLC. The PlayStation Network features a variety of amazing products and services – after all, it's one of the most popular digital storefronts online. Pick anything from movies, TV shows, music, add-ons as well as PS Plus card or PlayStation Now subscriptions.
Save the PSN gift card for later!
One of the best things about the PlayStation voucher is that it has absolutely no expiration date! There's nothing to stop you from holding on to it indefinitely and this is especially convenient when you couple it with the fact that the prices of PSN codes – such as the 45 PSN card – are not fixed. You can always purchase gift cards at a price cheaper than the value they offer on the PlayStation Store. This is one of the best ways to shop on PSN, considering how much you save. Don't hesitate and use this chance to buy the PSN gift card now!
PlayStation card as a present
Considering the circumstance that there are no time limitations surrounding the use of the PSN card, you can buy one now and keep it for a special occasion, such as your friend's birthday. Through buying the digital key you save not only money but time as well, as you don't have to go anywhere. Just send the code to the receiver when the time comes! 45 PSN card will serve as an especially generous gift that will provide the PlayStation console owner who receives it with the freedom of choice to pick whatever they please from the PSN assortment.
Choose from a variety of PSN codes!
Anyone who is connected to the PlayStation Network would be pleased with loading their PSN account wallet with 45 USD, but in some instances, this amount on its own might not be enough to cover the prices of things like the latest AAA games. No worries! Aside from 45 PSN card in question, the Eneba store features a variety of PSN cards to choose from, including gift cards of different values. 100 USD card will satisfy the highest of PSN needs, but we also feature a large selection of lower value cards from 10 USD and up. No matter what digital PSN card you ultimately choose, all of them follow the same activation procedure as it is given below.
Activation process:
• Open a Sony Network Entertainment account on PSN (or use your existing Sony Entertainment Network account);
• Select the PlayStation®Store icon on the PS4™ system home screen;
• When on the PlayStation Store, select Redeem Codes at the bottom of the menu;
• Enter the key code you've received in your email;
• Select Continue on the dialog box;
• Select Confirm to accept the terms and services pop-up;
• Press Continue to complete the 45 PSN card code activation!
Egyéb részletek
Megjelenés dátuma

2013. november 29.

Kiadó

Sony Computer Entertainment

Fejlesztők

Sony Computer Entertainment