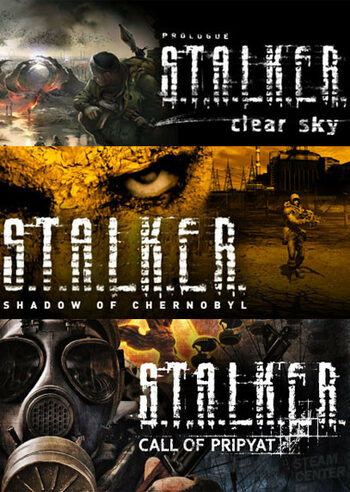 S.T.A.L.K.E.R.: Bundle GOG Key GLOBAL
Le prix n'est pas définitif
MondialPeut être activé dans

États-Unis d'Amérique

Clé numérique

Il s'agit d'une édition numérique du produit (CD-KEY)

Livraison instantanée
Avis important:
To redeem go to: https://www.gog.com/redeem
Les joueurs ont également consulté
Commentaires: 13
Deathshroud

04/03/2021

Traduit automatiquement

Achète-le maintenant. 3 jeux pour ce qui semble être un vol d'argent sage. Des heures et des heures de jeux avec la meilleure ambiance de ces dernières années.

McW

11/02/2021

Traduit automatiquement

Quiconque a déjà joué à la série STALKER sait très bien certaines choses. Tout d'abord, à leur époque, ce n'étaient pas des jeux particulièrement friands de mauvaises configurations.

HecHRR

17/11/2020

Traduit automatiquement

Excellente trilogie. C'est un jeu qui depuis sa sortie, j'ai réussi une intrigue et un décor impressionnants, il vous tient en haleine,

nilascolas

29/03/2021

Traduit automatiquement

Bien que le jeu lui-même puisse sembler un peu daté sans les mods appropriés, ce sont toujours d'excellents jeux, je le recommande! L'ambiance,

Dimaciedima

20/08/2020

Traduit automatiquement

Super jeu avec une histoire, une bande son et un gameplay géniaux. Pour ceux qui veulent jouer à Tarkov, ce jeu est vraiment un joueur unique avec des graphismes pires que Escape From Tarkov,
Description du produit
S.T.A.L.K.E.R.: Bundle GOG Key
Ukrainian gaming studio presents a release conveniently containing several S.T.A.L.K.E.R. titles in one place - S.T.A.L.K.E.R.: Bundle GOG key. Enter the ominous area surrounding the infamous Chernobyl, known as Zona. The survival FPS gameplay enriched with horror elements invites players to test their mental capabilities and shooter skills in a game that spares no one. S.T.A.L.K.E.R.: Bundle key creates an alternative reality where things after the Chernobyl disaster took a much darker turn, giving birth to greater anomalies than humankind could imagine.
Three games in one
S.T.A.L.K.E.R.: Bundle key contains three games of the series: S.T.A.L.K.E.R.: Clear Sky, S.T.A.L.K.E.R.: Call of Pripyat, and S.T.A.L.K.E.R.: Shadow of Chernobyl. All three titles contribute to the S.T.A.L.K.E.R. franchise, the first in chronological order being Shadow of Chernobyl – twenty years have passed since the Chernobyl disaster, causing repulsive mutations and infecting surrounding areas with deadly levels of radiation. In 2012, it's finally safe enough to investigate the Zona in search of mysterious artefacts that might cost a fortune. The other two games continue to elaborate on the precarious investigations, recklessly nearing the center of the Zona. Will you survive the hazardous anomalies lurking in the radioactive area? Buy S.T.A.L.K.E.R.: Bundle GOG key and test your ability to adapt, survive and battle with creatures no man has ever imagined to see!
Engaging gameplay mechanics
S.T.A.L.K.E.R.: franchise can pride itself on achieving an intense gaming experience by developing engaging gameplay mechanics, surpassing many FPS titles in the survival genre. Played from the first-person perspective, the title seamlessly combines elements of survival, horror and FPS to bring out a rich gameplay that is not limited to merely shooting. A player must search the areas, react quickly to take down mutated creatures, enemies and carry out missions. Once you meet other Stalkers, you must quickly estimate them and make a choice – take them down or cooperate with them. Nothing is as it seems, so be prepared to trust no one, feel the breath of death on your back at all times and experience a challenging yet rewarding combat with S.T.A.L.K.E.R.: Bundle key!
Major S.T.A.L.K.E.R. game features
S.T.A.L.K.E.R. Bundle offers an abundance of game features that catches the attention of both the S.T.A.L.K.E.R. fans and newcomers that want to experience something different in the gaming world.
• Enormous open world. The games offer a huge open world to explore in search of artifacts and other mysterious items. The in-game environment is interactive, filled with anomalies that continually attempt to eliminate any human life in area of the Zona;
• Non-linear narrative. To add to the intensity of the gameplay, the story of the game is rather fragmented, told in non-linear fashion and providing at least several possible endings to it;
• Advanced AI. Enjoy the advanced in-game AI that control the enemies you meet – they will be no mere characters that you can easily take down with a few bullets, so be ready for a dynamic combat that requires skill and wit;
• Whole collection. The S.T.A.L.K.E.R. Bundle key contains all three games of the franchise;
• Cheaper S.T.A.L.K.E.R. Bundle price.
Configuration requise
Configuration système minimale
Configuration système

Microst® Windows® XP/Microst® Windows® 2000 SP4

Processeur

Intel Pentium 4 2.0 Ghz / AMD XP 2200+

Mémoire

512 MB RAM

Graphique

128 MB DirectX® 8.0 / nVIDIA® GeForce™ 5700 / ATI Radeon® 9600

Stockage

10 GB
Autres détails
Langues

Allemand

Anglais

Espagnol, Castillan

Français

Italien

Polonais

Russe

Date de sortie

10 décembre 2013

Éditeur

GSC Game World

Développeurs

GSC Game World

Fonctionne sur