Mass Effect 2 Origin Key GLOBAL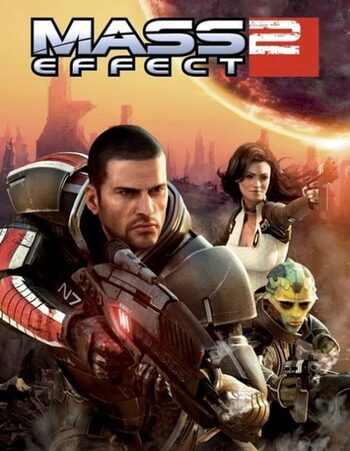 Mass Effect 2 Origin Key GLOBAL
¡Compártelo con alguien a quien podría gustarle esto!
GlobalSe puede activar en

Estados Unidos

Código Digital

Esta es una edición digital del producto (CD-KEY)

Entrega inmediata
Actualizaciones recomendadas
Mejora tu experiencia de juego.
Mayor rendimiento y fluidez del juego
Mayor calidad y resolución de los gráficos
Tiempos de carga más rápidos
Compatibilidad con las últimas tecnologías
Ver todas las ofertas (1118)
También te puede interesar
Reseñas: 4
archangel

12/7/2020

Traducción automática

Uno de los mejores juegos que he jugado. Excelente historia, excelentes gráficos y banda sonora y muy buena jugabilidad.

Danjee28

27/4/2020

Traducción automática

Buena historia y mecánica de juego, no realmente en juegos de rol, pero Mass Effect 2 es un gran comienzo.

Ricsi

19/4/2023

Traducción automática

Es muy triste que BioWare haya podido lanzar una Andrómeda de efecto masivo y un Himno después de obras maestras similares.

Si_Pedro02

5/1/2021

Traducción automática

¡El juego es asombroso! A pesar de ser antiguo y, por lo tanto, tener gráficos de 2010, su historia es asombrosa y la jugabilidad es bastante simple.
Mass Effect 2 Origin key
Developed by Bioware and published by Electronic Arts Mass Effect 2 is the second installment in the epic sci-fi RPG series that was started in 2007. Buy Mass Effect 2 key and catch up to what happened after the events of the first game. After being engaged by an unknown enemy Commander Shepard has been dead for 2 years, however, a shady pro-human organization called Cerberus lead by the mysterious Illusive Man brings Shepard back to life with the help of Lazarus Project. Human colonies across the galaxy have been vanishing and the bureaucrats are doing nothing about it. As Commander Shepard, you will collect an elite team of mercenaries, biotics, soldiers, and scientists from across the galaxy to stop the new threat to the human race.
Import save files from the preivous game
Buy Mass Effect 2 key and enjoy a revolutionary feature of the game that made the original Mass Effect trilogy unique in the gaming arena. If you played the first Mass Effect, you can choose to import your save files to Mass Effect 2. All the decisions you made in the first Mass Effect game will carry on to Mass Effect 2, changing the story accordingly and making your campaign a truly personal experience. The game includes additional character customization options. You can choose Shepard's looks and sex with both options being fully voiced, pick one of the 6 distinct classes and customize your armor.
Explore the Milky Way galaxy
Buy Mass Effect 2 key if you ever wanted to experience what it's like to live in a space opera like Star Wars. The amount of freedom is staggering. You'll explore the galaxy in your cutting-edge starship – the Normandy SR-2, which will serve you both as a transport and as a base of operations for your crew. Fly from star system to star system gathering clues as to what happened to the missing human colonists, visit breathtaking futuristic locations like Illium and Omega. Mass Effect 2 codex entries continue upon expanding the rich world-building of the first game with interesting fiction grounded in scientific plausibility.
Prepare for the Suicide Mission
Looking for a game with well-written character development? Buy Mass Effect 2 key. The second installment in the Mass Effect series has a strong focus on the characters. As you explore the galaxy looking for means to fight the new enemy, you'll go through various interesting recruiting missions. Normandy SR-2 crew will be expanded with new personnel, but you will see a comeback of some popular characters from the original Mass Effect. Gathering your crew and gaining their trust is crucial for the final mission. Your decisions made throughout Mass Effect 2 will determine if you'll survive the final battle at the end of the game. The stakes are real, so buy Mass Effect 2 key to immerse yourself in one of the most epic and definitive sci-fi experiences of our generation that you simply cannot afford to miss.
Requisitos del sistema
Requisitos mínimos del sistema
Requisitos del sistema

Windows XP SP3 / Windows Vista SP1 / Windows 7

Procesador

1.8 GHz - Intel Core 2 Duo

Memoria

2 GB RAM

Gráficos

256 MB VRAM - NVIDIA GeForce 6800 / ATI Radeon X1600

Almacenamiento

15 GB

Notas adicionales

Internet connection
Requisitos del sistema recomendados
Requisitos del sistema

Windows XP SP3 / Windows Vista SP1 / Windows 7

Procesador

2.6 GHz Core 2 Duo Intel AMD CPU

Memoria

2 GB RAM

Gráficos

ATI Radeon HD 2900 XT, NVIDIA GeForce 8800 GT

Almacenamiento

15 GB
Detalles del pedido
Idiomas

Alemán

Checo

Español

Francés

Húngaro

Inglés

Italiano

Polaco

Ruso

Fecha de lanzamiento

27 de enero de 2013

Editor

Electronic Arts Inc.

Desarrolladores

BioWare Corporation

Funciona en