Sniper Elite 4 (Deluxe Edition) Steam Key GLOBAL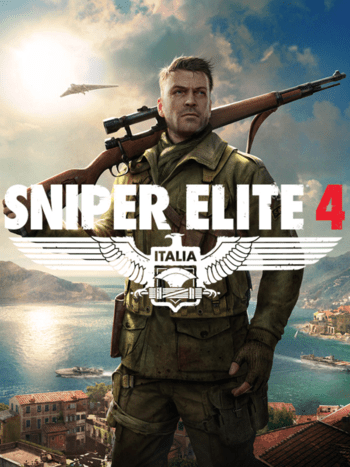 Sniper Elite 4 (Deluxe Edition) Steam Key GLOBAL
Teile das mit jemandem, der daran Freude hätte!
GlobalKann in

Vereinigte Staaten von Amerika

aktiviert werden

Digitaler Key

Dies ist eine digitale Ausgabe des Produkts (CD-KEY)

Sofortige Lieferung
Spieler haben sich auch angesehen
Bewertungen: 7
Xenox

27.4.2021

Automatisch übersetzt

Ich empfehle dieses Spiel jedem, der den Sniper Elite-Thread gestartet hat. Das Spiel macht schnell süchtig, das Plus ist, dass Sie im Koop-Modus spielen können.

Edmon73

9.1.2023

Automatisch übersetzt

Mehr als bemerkenswertes Spiel. Aus meiner Sicht das Beste der Saga (bis heute). Ich liebte den ersten von allen, den Sniper Elite (zu seiner Zeit),

Nach03-_-

29.8.2022

0

Bastante entretenido el juego con varias horas de juego añadiendo los dlc y el cooperativo muy entretenido, puedes jugar tanto en sigilo como intentar ir a saco,

mech

29.7.2022

Automatisch übersetzt

Dieses Spiel ist ziemlich gut, Kill Cams sind das beste Feature darin, und die Grafik ist ziemlich gut für ein Spiel, das vor über 5 Jahren herauskam,

PspaDuck

28.6.2022

Automatisch übersetzt

Bestes Spiel der Reihe. Sehr flüssiges und hervorragendes Gameplay. Laub und Nebel sind definitiv deine Freunde in diesem Spiel. Ich liebe es,
Dies könnte dir auch gefallen
Produktbeschreibung
Sniper Elite 4 (Deluxe Edition) key
Sniper Elite 4 (Deluxe Edition) key developed by Rebellion Developments is a tactical third-person shooter with stealth elements. It's the fourth sequel to Sniper Elite franchise. The game is set in the year 1943, the action follows up the events in Sniper Elite III. This time the Royal Navy finds out about rumours of a new Nazi weapon being built in Italy, and they send you to interfere with the Nazi plans. The campaign consists of eight missions. The maps are large, and the game follows "play it how you want to play it" philosophy, thus there's no voice in your head governing you to objectives.
It's Not All About Sniping
Sniper Elite 4 key without a doubt excels at the way you scope your enemies. If you want to land some successful hits for the infamous X-RAY cam system to activate, many factors are to be considered. Gravity, muzzle's velocity, wind speed and direction, scope drift and ammo scarcity are to name a few.
While sniping is one of the key elements, you have a variety of other means to eliminate your AI Nazi enemies. Whether it's silent take-downs with a knife, planting bombs on already cold Nazi bodies, or setting wired traps it's all up to your ingenuity and imagination.
Sniper Elite 4 key sure offers stealth elements incorporated, where you can spot, stalk and silently eliminate unsuspecting soldiers, however, if you are spotted and enemies from all over start rushing to your location, good old-fashioned gun-down using SMG is also up your sleeve.
Not So Lonely
The game offers quite a few options to share the experience with a friend. You can Co-Op and run through all the single-player campaign alongside your friend, where both of you can cause havoc in whatever form you desire!
Survival Co-Op mode launches packs of enemies straight at you in the form of twelve increasingly more difficult waves. There's much more action in this mode, but there's still plenty freedom to experiment and improvise.
Considering multiplayer, sniper vs sniper battles are as intense as they are patient, composed and enduring. One of the signature multiplayer modes with Sniper Elite 4 key, requires players to land the longest distance kill shot to win.
Control multiplayer mode is basically a standard variant of capture and hold. However, having a sniper makes it fast and focused simultaneously.
Systemanforderungen:
Mindest-Systemanforderungen
Systemanforderungen

64-bit Windows 7 / 64-bit Windows 8.1 / 64-bit Windows 10

Prozessor

Intel CPU Core i3-2100 / AMD

Arbeitsspeicher

4 GB RAM

Grafik

AMD Radeon HD 7870 (2GB) / NVIDIA GeForce GTX 660 (2GB)

Speicherplatz

20 GB
Empfohlene Systemanforderungen
Systemanforderungen

64-bit Windows 7 / 64-bit Windows 8.1 / 64-bit Windows 10

Prozessor

Intel CPU Core i7-3770 / AMD

Arbeitsspeicher

8 GB RAM

Grafik

Nvidia GPU GeForce GTX 970 / AMD GPU Radeon RX 480

Speicherplatz

20 GB
Andere Details
Sprachen:

Deutsch

Englisch

Französisch

Italienisch

Polnisch

Portuguese-Brazil

Russisch

Simplified Chinese

Spanisch

Traditional Chinese

Veröffentlichungsdatum:

15. Februar 2017

Herausgeber

Rebellion

Entwickler

Rebellion

Funktioniert auf