Gran Turismo 7 Pre-order Bonus (DLC) (PS5) PSN Key NORTH AMERICA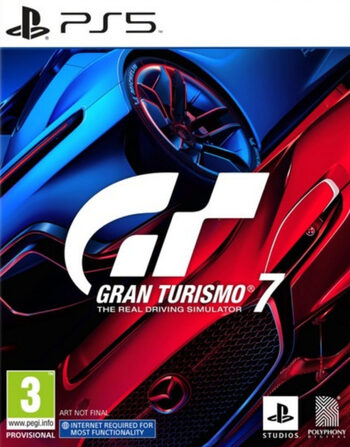 Gran Turismo 7 Pre-order Bonus (DLC) (PS5) PSN Key NORTH AMERICA
Teile das mit jemandem, der daran Freude hätte!
Sorry, ausverkauft :(
Willst du dieses Spiel? Wir können dich per E-Mail benachrichtigen, wenn das Produkt wieder verfügbar ist.
Benachrichtigung
NordamerikaKann in

Vereinigte Staaten von Amerika

aktiviert werden

Digitaler Key

Dies ist eine digitale Ausgabe des Produkts (CD-KEY)

Sofortige Lieferung
Spieler haben sich auch angesehen
Bewertungen: 0
Dies könnte dir auch gefallen
Produktbeschreibung
Gran Turismo 7 Pre-order Bonus (DLC) (PS5) PSN Key
Includes:
• Toyota Castrol TOM'S Supra;
• Mazda RX-VISION GT3 Concept (Stealth);
• Porsche 917K Living Legend;
• 100,000 in-game Credit (CR).
One of the oldest video game series focusing on driving simulation is Gran Turismo. The series started in the good old PlayStation 1 era and now is probably the biggest driving simulation video game franchise on the market. Developers Polyphony Digital and publishers Sony Interactive Entertainment present the newest installment Gran Turismo 7 PSN key. One of the features of GT7 is a comeback of GT Simulation mode which will please fans of single-player campaigns. You will also get traditional tracks and cars, Special Events, Championships, Driving School, Tuning Parts Show, Used Cars dealership, and GT Auto modes. Also, GT Sport, Brand Central, and Discover modes from Gran Turismo Sports, as well as dynamic time and weather effects from GT5 and GT6 also came back!
The most modern driving experience
GT7 for PlayStation 5 system will use enhanced power of the PS5 processor, it will also have ray-tracing technology, faster loading times, and other cutting-edge technologies in video games today. Don't forget the iconic DualSense and its features with haptic feedback and more. GT7 will run in 4K resolution for PS5 and will have 60 frames-per-second framerate. GT7 PSN key is the most modern video game of driving simulation in the market! Maybe there you will find your own car, hence the game features a lot of licensed vehicles from various real-world companies.
Gran Turismo 7 features
To experience the most realistic driving simulator in the industry, you will need to get to know these GT7 elements:
• Best-of GT. GT7 features the best elements from all previous GT installments. Everyone will find something for themselves;
• A dream garage. Collect vehicles, race, compete, and tune. Make a collection of your dreams come true;
• Competition in multiplayer. Connect to an international team of drivers, share strategies and intricacies of driving, as well as subtle secrets of vehicle tuning. Be different with unique designs, photos and immerse yourself into races;
• Cheap Gran Turismo 7 PSN key price.
A game for everyone
It doesn't matter if you like to race and compete, or just to relax and simply drive, or collect, tune cars, make unique designs, and take photos of them – in GT7 PSN key, everyone will find something for themselves. Also, in GT7 fan-favorite GT Campaign, Arcade, and Driving School modes are back! You will find more than 420 licensed cars, and every one of them is replicated perfectly, to the most intricate details. From old, classic vehicles to modern supercars – there is no chance that you won't find your dream car here! Don't forget that every car in the game operates the same as in real life with real engine sounds and other details. Try to imagine this number of different vehicles, 90 different tracks, and dynamic weather conditions. Yes, this is GT7.
Experience this exciting title and other PlayStation games with the help of PSN gift cards – get the best deals without breaking the bank!
Andere Details
Sprachen:

Veröffentlichungsdatum:

4. März 2022

Herausgeber

Sony Computer Entertainment

Entwickler

Polyphony Digital