S.T.A.L.K.E.R.: Bundle GOG Key GLOBAL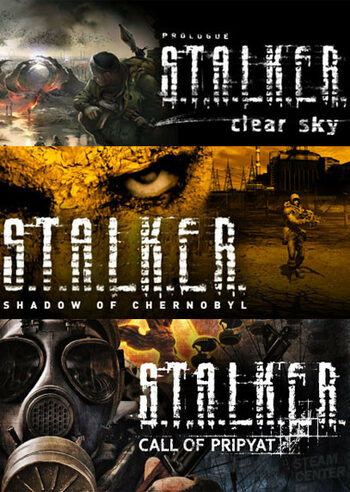 S.T.A.L.K.E.R.: Bundle GOG Key GLOBAL
Teile das mit jemandem, der daran Freude hätte!
GlobalKann in

Vereinigte Staaten von Amerika

aktiviert werden

prüfen

Digitaler Key

Dies ist eine digitale Ausgabe des Produkts (CD-KEY)

Sofortige Lieferung
Wichtiger Hinweis:
To redeem go to: https://www.gog.com/redeem
Spieler haben sich auch angesehen
Bewertungen: 14
Deathshroud

4.3.2021

Automatisch übersetzt

Kaufen Sie es bereits. 3 Spiele für etwas, das wie Geld stehlen scheint. Stunden und Stunden der Spiele mit der besten Atmosphäre der letzten Jahre.

McW

11.2.2021

Automatisch übersetzt

Jeder, der jemals die STALKER-Serie gespielt hat, weiß ein paar Dinge sehr gut. Erstens waren dies zu ihrer Zeit keine Spiele, die besonders schlechte Konfigurationen mochten.

HecHRR

17.11.2020

Automatisch übersetzt

Ausgezeichnete Trilogie. Es ist ein Spiel, bei dem ich seit seiner Veröffentlichung eine beeindruckende Handlung und Kulisse geschafft habe. Es hält Sie in Atem,

nilascolas

29.3.2021

Automatisch übersetzt

Obwohl das Spiel selbst ohne die richtigen Mods etwas veraltet zu sein scheint, sind dies immer noch großartige Spiele, würde ich empfehlen! Die Atmosphäre,

Dimaciedima

20.8.2020

Automatisch übersetzt

Tolles Spiel mit einer tollen Geschichte, Soundtrack und Gameplay. Für diejenigen, die Tarkov spielen möchten,
Dies könnte dir auch gefallen
Produktbeschreibung
S.T.A.L.K.E.R.: Bundle GOG Key
Ukrainian gaming studio presents a release conveniently containing several S.T.A.L.K.E.R. titles in one place - S.T.A.L.K.E.R.: Bundle GOG key. Enter the ominous area surrounding the infamous Chernobyl, known as Zona. The survival FPS gameplay enriched with horror elements invites players to test their mental capabilities and shooter skills in a game that spares no one. S.T.A.L.K.E.R.: Bundle key creates an alternative reality where things after the Chernobyl disaster took a much darker turn, giving birth to greater anomalies than humankind could imagine.
Three games in one
S.T.A.L.K.E.R.: Bundle key contains three games of the series: S.T.A.L.K.E.R.: Clear Sky, S.T.A.L.K.E.R.: Call of Pripyat, and S.T.A.L.K.E.R.: Shadow of Chernobyl. All three titles contribute to the S.T.A.L.K.E.R. franchise, the first in chronological order being Shadow of Chernobyl – twenty years have passed since the Chernobyl disaster, causing repulsive mutations and infecting surrounding areas with deadly levels of radiation. In 2012, it's finally safe enough to investigate the Zona in search of mysterious artefacts that might cost a fortune. The other two games continue to elaborate on the precarious investigations, recklessly nearing the center of the Zona. Will you survive the hazardous anomalies lurking in the radioactive area? Buy S.T.A.L.K.E.R.: Bundle GOG key and test your ability to adapt, survive and battle with creatures no man has ever imagined to see!
Engaging gameplay mechanics
S.T.A.L.K.E.R.: franchise can pride itself on achieving an intense gaming experience by developing engaging gameplay mechanics, surpassing many FPS titles in the survival genre. Played from the first-person perspective, the title seamlessly combines elements of survival, horror and FPS to bring out a rich gameplay that is not limited to merely shooting. A player must search the areas, react quickly to take down mutated creatures, enemies and carry out missions. Once you meet other Stalkers, you must quickly estimate them and make a choice – take them down or cooperate with them. Nothing is as it seems, so be prepared to trust no one, feel the breath of death on your back at all times and experience a challenging yet rewarding combat with S.T.A.L.K.E.R.: Bundle key!
Major S.T.A.L.K.E.R. game features
S.T.A.L.K.E.R. Bundle offers an abundance of game features that catches the attention of both the S.T.A.L.K.E.R. fans and newcomers that want to experience something different in the gaming world.
• Enormous open world. The games offer a huge open world to explore in search of artifacts and other mysterious items. The in-game environment is interactive, filled with anomalies that continually attempt to eliminate any human life in area of the Zona;
• Non-linear narrative. To add to the intensity of the gameplay, the story of the game is rather fragmented, told in non-linear fashion and providing at least several possible endings to it;
• Advanced AI. Enjoy the advanced in-game AI that control the enemies you meet – they will be no mere characters that you can easily take down with a few bullets, so be ready for a dynamic combat that requires skill and wit;
• Whole collection. The S.T.A.L.K.E.R. Bundle key contains all three games of the franchise;
• Cheaper S.T.A.L.K.E.R. Bundle price.
Systemanforderungen:
Mindest-Systemanforderungen
Systemanforderungen

Microst® Windows® XP/Microst® Windows® 2000 SP4

Prozessor

Intel Pentium 4 2.0 Ghz / AMD XP 2200+

Arbeitsspeicher

512 MB RAM

Grafik

128 MB DirectX® 8.0 / nVIDIA® GeForce™ 5700 / ATI Radeon® 9600

Speicherplatz

10 GB
Andere Details
Sprachen:

Deutsch

Englisch

Französisch

Italienisch

Polnisch

Russisch

Spanisch

Veröffentlichungsdatum:

10. Dezember 2013

Herausgeber

GSC Game World

Entwickler

GSC Game World

Funktioniert auf