Fortnite: Save the World - Standard Founders Pack Epic Games Key GLOBAL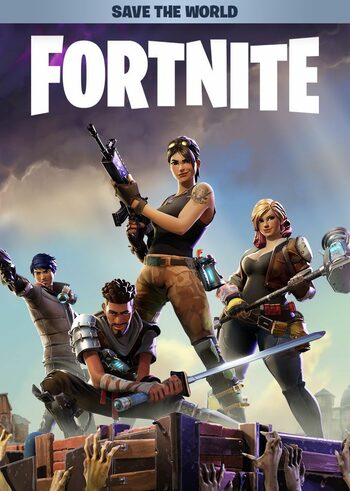 Fortnite: Save the World - Standard Founders Pack Epic Games Key GLOBAL
10 Personen schauen sich dieses Produkt gerade an
Teile das mit jemandem, der daran Freude hätte!
Günstigstes Angebot
Suchst du nach guten Angeboten?
Erhalte sie direkt in deinem Posteingang
Erhältlich beim Bezahlen:
GlobalKann in

Vereinigte Staaten von Amerika

aktiviert werden

Digitaler Key

Dies ist eine digitale Ausgabe des Produkts (CD-KEY)

Sofortige Lieferung
Spieler haben sich auch angesehen
Bewertungen: 5
John

3.12.2021

Automatisch übersetzt

Es ist ein sehr gutes Spiel, es macht ziemlich viel Spaß, mit Freunden und anderen zufälligen Leuten zu spielen! es ist auch sehr gut zu verwenden,

Radioactivbunni

25.10.2022

Automatisch übersetzt

Toll, dass man das noch bekommt. Es ist schön, V-Bucks zu bekommen, wenn man die Welt rettet, man bekommt nicht viel, aber man bekommt etwas,

JAZ

21.8.2023

Automatisch übersetzt

Es lohnt sich und das Gameplay macht Spaß und es gibt jede Menge zu tun. Jetzt, da ich jeden Tag kostenlose V-Bucks bekomme, macht es mir viel mehr Spaß.

Angie SU San

17.10.2023

Automatisch übersetzt

Ein unterschätztes Spiel, das als Gründer noch besser wird. Die Möglichkeit, durch das Abschließen von Missionen In-Game-V-Bucks zu verdienen,

fer

26.9.2023

Automatisch übersetzt

Ich mag dieses Spiel wirklich, ich dachte nicht, dass es mir sehr gefallen würde, der Kauf hat sich gelohnt, ich habe dieses Spiel am 28.
Fortnite: Save the World - Standard Founders Pack Key
Fortnite: Save the World Standard Founders Pack Epic Games key includes the following:
• Save the World game mode access;

• 4 Exclusive In-Game Banner Icons (PVE only);

• 6 Daily Loot Pinata Packs (PVE only);

• Exclusive Founder's Loot Pinata Pack (PVE only).
Developed and published by Epic Games, Fortnite came out in 2017. Upon its release, this free-to-play title quickly reached the heights of popularity and became a massive cultural phenomenon. Fortnite is mostly known for its Battle Royale mode, however, that's just one of the three game types you can enjoy while playing this game. Next to the sandbox mode known as Creative, you can immerse yourself into the Fortnite: Save the World 4 player co-op campaign. Buy this Standard Founders Pack Epic Games key and you will also receive exclusive in-game content for your upcoming PvE battles ahead.
What is Save the World mode all about?
It might come as a surprise to gamers who only ever played the Battle Royale mode of Fortnite, but this game has an extensive fictional universe which is mostly explored in the Save the World game type. A mysterious storm has descended upon the Earth and destroyed 98% of the world's population. Fortnite: Save the World has you playing as one of the leftover Heroes whose task is to protect the remaining survivors against hordes of zombie-like creatures known as "husks". Buy Standard Founders Pack Epic Games key and your experience will be greatly elaborated with additional loot and items!
Save the World gameplay
Gameplay mechanics present in Battle Royale and Creative modes of Fortnite remain the same in the Save the World mode but instead of participating in PvP skirmishes, you and your friends will fight against increasing waves of AI-controlled zombies and monsters. In Fortnite: Save the World you will also rely on your building skills as you'll need to harvest resources from the destructible environment, and use them to fortify your defenses. Build walls, set traps, construct entire fortresses and use a variety of weapons which you'll receive with 6 Daily Loot Pinata packs included within the Standard Founders Pack Epic Games key.
Looking for more Fortnite content?
There's a lot to discover and enjoy while playing Fortnite as it is a truly addictive game that's easy for newcomers to get into. If you seek to enrich your time spend with this game and explore what Fortnite has to offer beyond the Fortnite: Save the World mode, be sure to visit the Fortnite skins and V-Bucks collection right here on Eneba game store! Load yourself with V-Bucks, get exclusive Battle Royale skins, gliders, harvesting tools, sprays and emotes which you will not find in the Fortnite Item Shop. After buying the Standard Founders Pack Epic Games key, keep in mind that you are always free to come back for more great Fortnite offers!
Systemanforderungen:
Mindest-Systemanforderungen
Systemanforderungen

Windows 7/8.1/10 (64 Bit)

Prozessor

Intel Core i3 @ 2.4GHz

Arbeitsspeicher

4 GB RAM

Grafik

Intel HD 4000

Speicherplatz

20 GB
Andere Details
Sprachen:

Englisch

Französisch

Italienisch

Polnisch

Spanisch

Veröffentlichungsdatum:

25. Juli 2017

Herausgeber

Epic Games

Entwickler

Epic Games

Funktioniert auf