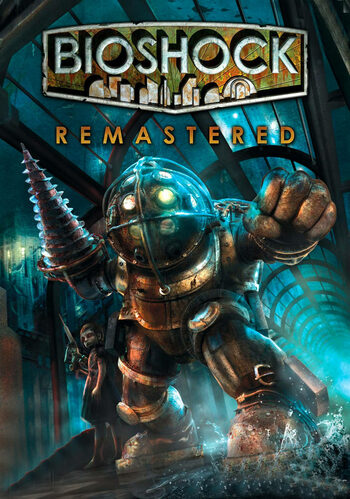 Bioshock Remastered Steam Key GLOBAL
Sdílejte to s někým, kdo by to chtěl!
GlobálníLze aktivovat v

Spojené státy americké

Zkontrolujte

Digitální klíč

Toto je digitální vydání produktu (CD-KEY)

Okamžité doručení
Recenze: 0
Mohlo by se vám také líbit
Popis produktu
Bioshock Remastered Steam Key
Bioshock key offers one of the greatest shooters ever made, offering unique combat using a variety of powerful weapons and unique gameplay due to modifications to your very DNA, which turns your character into a walking killing machine. The Bioshock Remastered key offers some additional perks like full 4K resolution support, high-resolution textures, models and interface and several other perks.
Does radiant gameplay sound like something you would enjoy immensely? What about a nice set of inventive features? That's right, we also know that games like these are what makes gaming so sweet, and Bioshock Remastered key on Steam is perfect proof of that! Developed by 2K Boston, 2K Austraila and delivered on 2016-09-16 by the international bastion of gaming – 2K, the title exhibits high quality. From graphics to gameplay, everything is crafted with utmost attention to detail, sparing no effort from developers. Buy Bioshock Remastered Steam key for a great price and dive into an extraordinary action experience without hesitation!
Action genre
With Bioshock Remastered Steam key belonging to the action genre, you'll be able to face challenges while using an arsenal of different items as well as natural skills, among which there's speed, focus, and plenty of others. Successfully selecting a target, choosing the right combat movements, and maintaining focus while facing distractions will be some of the main areas where you'll have to test your pace and attention span. Mastering these techniques won't make you a merely more competent player – they will help you become a better learner in real life too.
Features
Lose yourself in the immersive world with Bioshock Remastered key! This title includes many features and mechanics that improve the overall gameplay:
• 3D graphics – The world is three-dimensional and can be viewed and rotated at every angle;
• Atmospheric setting – The immersive world is accompanied by stunning visuals, a charming soundtrack, and fluid gameplay mechanics;
• First-person view – You view the world through the eyes of your character;
• RPG – You take the role of the protagonist, hone your skills, and face various challenges to complete missions;
• Shooter – You collect various guns and use them to blast the enemies to bits;
• Singleplayer – The game includes a story campaign meant for solo players;
• Cheap Bioshock Remastered (PC) price.
Systémové požadavky
Minimální systémové požadavky
Systémové požadavky

Windows XP (SP 2) / Windows Vista

Procesor

2.4 GHz - Intel Pentium 4

Paměť

1 GB RAM

Grafika

NVIDIA GeForce 6600 / ATI Radeon X1300

Úložný prostor

8 GB
Doporučené systémové požadavky
Systémové požadavky

Windows 7

Procesor

3GHz Quad-Core

Paměť

8 GB RAM

Grafika

2GB ATI Radeon HD 7970

Úložný prostor

25 GB
Další podrobnosti