Bloodroots (Nintendo Switch) eShop Key UNITED STATES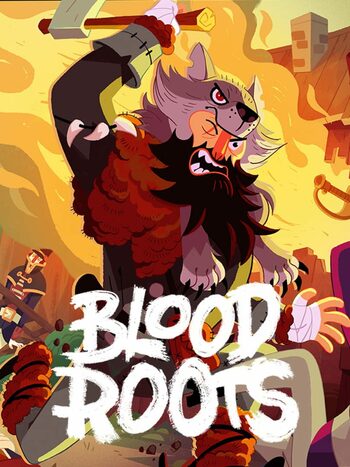 Bloodroots (Nintendo Switch) eShop Key UNITED STATES
Deel met iemand die dit leuk zou vinden!
Gekopieerd naar klembord!
Verenigde StatenKan geactiveerd worden in

Verenigde Staten van Amerika

Check

Digitale key

Dit is een digitale versie van het product (CD-KEY)

Instant Levering
Beoordelingen: 0
Wellicht vind u dit ook leuk
Productomschrijving
Bloodroots
Paper Cult presents Bloodroots – game that centers around non-stop action and a story about revenge. If you ever wanted to see what would the Revenant look like if it were a fast-paced video game with Quentin Tarantino levels of violence look no further as you have come to the right place! Buy this Nintendo Switch key and play as Mr. Wolf – a betrayed man who was left for dead by the people he trusted and now he's out for some blood. The premise of the game might sound simple, but its characters and gameplay surprises with depth and multilayered complexity.
One-hit kills
Blast your way through the series of levels leaving just a trail of blood and dead bodies behind you. Bloodroots game features an approximately 8-hour long campaign oozing with style, satisfying action, and a well-written story. You'll experience the game from top-to-bottom perspective and send enemies to the graveyard with one-hit kills. Careful though, as they can end your life in the same way. Enter levels with unique environmental hazards, plan ahead, and engage in some of the most memorable boss battles ever!
Stylish presentation
One of the first things you might notice about this title is its stylish presentation and cartoon-like graphics. This aesthetic makes the Bloodroots game very reminiscent of cult classic Genndy Tartakovsky's Samurai Jack series featured on Cartoon Network back in the late 1990s and early 2000s. The same level of action and serious touch to the story makes gives this experience with a unique identity when compared to other popular action-adventure titles.
Improvised combat
Mr. Wolf will find ways to exact his vengeance on enemies, even if there were no weapons around to use. His hate is simply too intense to bother himself about such superfluous details. The combat system of Bloodroots game encourages improvisation, as you will grab a variety of everyday objects scattered throughout the in-game environment and use them as weaponry. Enemy types are also defined by the weapons they use – some of them will try to kill you in melee combat, while others will use guns. Mr. Wolf himself won't stay empty-handed. As the campaign progresses, you'll unlock ray guns, miniguns and a bunch of other murderous toys to play with. So buy Bloodroots Nintendo Switch key and begin your rampage!
Andere details
Talen

Chinees

Duits

Engels

Frans

Japans

Koreaans

Portugees

Spaans

Releasedatum:

28 februari 2020

Uitgever

Paper Cult

Ontwikkelaars

Paper Cult