OUTRIDERS WORLDSLAYER PC/XBOX LIVE Key EUROPE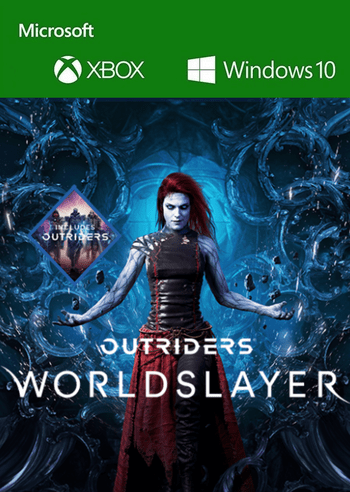 OUTRIDERS WORLDSLAYER PC/XBOX LIVE Key EUROPE
Europa

Jungtinės Amerikos Valstijos

yra netinkamas regionas aktyvacijai

Aktyvavimo raktas

Tai skaitmeninė produkto versija (CD-KEY)

Momentinis pristatymas
Tinkamas:
Windows
Xbox One
Xbox Series X
Svarbus pastebėjimas:
The product works ONLY in countries that have XBOX LIVE service available: https://www.xbox.com/en-US/live/countries . Make sure that your account and IP is LOCATED in one of the supported countries!
Rekomenduojami atnaujinimai
Patobulinkite savo žaidimų patirtį.
Patobulintas veikimas ir sklandesnis žaidimas
Aukštesnė grafikos kokybė ir raiška
Greitesnis įkėlimo laikas
Mažesnis vėlavimas ir uždelsimas
Suderinamumas su naujausiomis technologijomis
Ilgesnis kompiuterio tarnavimo laikas
Patikrink visus pasiūlymus (1972)
Žaidėjai taip pat peržiūrėjo
Įvertinimai: 0
Prekės aprašymas
Outriders Worldslayer PC/Xbox Live Key
The first expansion of Outriders, Worldslayer is exactly what the Outriders players have been waiting for! A new menace arises threatening the entire survival of the human race. But do not worry, Outrider, while Worldslayer brings new threats, Outriders Worldspayer Xbox Live key also arms you with new weapons, skills, mods, and armor sets. Are you ready to stand against the Insurgent armies and the foe known as the First Altered – Ereshkigal herself? The fate of planet Enoch is in your hands with the Outriders Worldslayer key. Get ready for a brutal and action-packed looter-shooter RPG experience!
Outriders Worldslayer features
All great threats require great countermeasures and the Outriders Worldslayer Xbox Live key will include these features:
• New skill trees. The new Pax Trees expand your abilities with 2 new skill trees further advancing your character and allowing you to create the most powerful Outrider based on your preferred play style;
• Apocalypse loot. With the new Apocalypse weapons and armor sets, you will become a brutal and powerful force that is to be reckoned with;
• 3rd mod slot. Apocalypse gear has the 3rd mod slot for increased power and customization;
• Dynamic 1-3 player co-op. Play solo or join your friends if you feel that saving Enoch is not a one-man's job;
• Endgame. Finished with the campaign? Jump in endgame's Expeditions to face new threats in the city of Tarya Gratar;
• Base game. Outriders Worldslayer Xbox Live key includes the base Outriders game;
• Jump right into Wordslayer. If you want to enjoy Worldslayer without playing the base game, a level 30 pre-created Outrider is at your service;
• Cheap Outriders Worlslayer key price.
An engrossing shooter experience
One of the most mesmerizing and inviting aspects of Outriders Xbox Live key is the dynamic combat system that allows you to utilize the full potential of the weaponry at your disposal. Scavenger guns and gear you find along your way, learn how to make the best of your weapons, and enjoy the best FPS experience delivered by one of the best developers of shooter games in the industry – People Can Fly. Buy Outriders key, gear up, arm yourself with determination, and fine companions, and embark on a swashbuckling experience where RPG and FPS merge to create an authentic dystopian narrative!
Sistemos reikalavimai
Minimalūs sistemos reikalavimai
64 bitų palaikymas

Taip

Sistemos reikalavimai

Windows 10

Procesorius

Intel I5-3470 / AMD FX-8350

Atmintis

8 GB RAM

Grafika

Nvidia GeForce GTX 750ti / AMD Radeon R9 270x

DirectX

11
Kita informacija
Kalbos

Išleidimo data

2022 m. birželio 30 d.

Leidėjas

Square Enix

Kūrėjai

People Can Fly