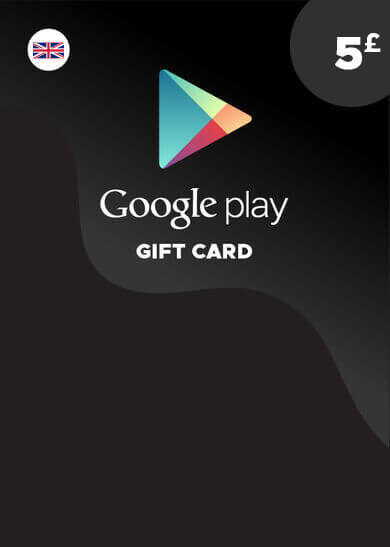 Google Play Gift Card 5 GBP (UK) Key UNITED KINGDOM
99.82%

iš 10k+ įvertinimų yra puikūs!
Jungtinė KaralystėNegalima aktyvuoti

Jungtinės Valstijos

Aktyvavimo kodas

Tai skaitmeninė produkto versija (CD-KEY)

Momentinis pristatymas
Svarbi pastaba:
No expiration date. Code is valid only for the UNITED KINGDOM account.
1

papildomas pasiūlymas
Google Play Gift Card 5 GBP UNITED KINGDOM
Google Play is probably the best online shop dedicated to Android devices. And for a good reason! Buy Google Play Gift Card 5 GBP UK, increase your Google wallet and enjoy the varied forms of entertainment you can get for your mobile device!
For readers
Do you love reading but don't feel like getting yourself an expensive reader? Well, with your phone at hand, you are free to take your favourite books wherever you travel. Google Books is a service that is appreciated by scholars and casual reader alike; housing myriad of books – fiction, poetry or even psychology – even the pickiest of book lovers will find something for themselves in this vast library. So, if you are looking for some entertainment while on the go, buy Google Play Gift Card 5 GBP UK and open new doors to a literary world.
For watchers
Or maybe you don't particularly like books, and would prefer to spend your evenings watching the newest blockbuster? Well, you can! Google movie service allows you to rent out a movie for holidays if you simply want something to occupy your time and engage the imagination, and should you decide there's a movie you will most definitely want to watch again and again, there's the option to buy as well! With Google movies you will have access to an entire private theatre, simply buy Google Play Gift Card 5 GBP UK, browse the selection and watch whatever you want whenever you want!
For gamers
And probably one of the most widely recognized uses for Google gift cards is the great selection of mobile games. Some of them are free with optional in-game transactions, and other might cost a certain amount. Either way, there are apps that will interest people of various tastes. Do you like puzzle games? Google has that! Prefer to test your luck at gacha? Simply pick the game you like! Or perhaps you want to play an RPG game but on a smaller scale? Buy Google Play Gift Card 5 GBP UK and invest your funds into an assortment of mobile adventures!
---
Išleidimo data:
January 1, 2010
---