Far Cry 4 (PC) Green Gift Key EUROPE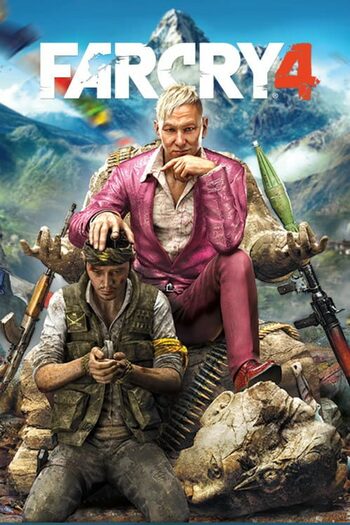 Far Cry 4 (PC) Green Gift Key EUROPE
Europa

Jungtinės Amerikos Valstijos

yra netinkamas regionas aktyvacijai

Patikrink

Aktyvavimo raktas

Tai skaitmeninė produkto versija (CD-KEY)

Momentinis pristatymas
Svarbus pastebėjimas:
To redeem a code, visit: https://www.greenmangaming.com/gift-redemption. Upon activation, you will receive the game on your Ubisoft Connect account. Make sure to follow the instructions on how to redeem the key!
Žaidėjai taip pat peržiūrėjo
Įvertinimai: 0
Jums taip pat gali patikti
Far Cry 4
One of the greatest gems in the crown of Ubisoft is the Far Cry series. First-person shooter Far Cry 4 precedes the famous Far Cry 3, a title that took the gaming world by the storm, and the sequel is ready to surpass all the previous iterations of the series. You set out Kyrat, carrying the whisper of your mother's dying wish in your chest and cold-blooded determination in the hollow of your heart. Buy Far Cry 4 Green Gift key and get ready for adventures of epic proportions, saturated in betrayal and hatred!
What is the story of Far Cry 4?
The story begins with your arrival to Kyrat, a country steeped in tradition and violence, hidden in the towering Himalayas. This time you assume the role of Ajay Ghale who arrives here with one goal in mind - to fulfill your mother's dying wish. However, the action gains momentum and before you know it, you find yourself caught up in a civil war to overthrow the oppressive regime of dictator Pagan Min. In this vast open-world, you are free to explore at your own risk as danger lurks behind every crook and corner. Every decision you make bears consequences and each moment spent in Far Cry 4 key is a moment lived fully!
Major gameplay features
Far Cry 4 maintains the spirit of the series masterfully - seamlessly joining dynamic gameplay with mesmerizing story-telling, absorbing the player completely.
• Multiplayer. The beauty of Far Cry 4 combat system unfolds in competitive and co-op multiplayer mode, allowing you to test your abilities against other people;
• Open-world. Explore the spellbinding Kyrat, hidden in the snowy Himalayas. The world is vast and interactive, full of dangers and challenges;
• Enthralling narrative. The story starts with a sentimental introduction in this quest for revenge which evolves into full-scale adventure amidst the civil war;
• Flexible combat style. The game offers a flexible and dynamic combat style - use a wide arsenal of weapons and utilize your surroundings to your advantage;
• Cheaper Far Cry 4 price.
Sistemos reikalavimai
Minimalūs sistemos reikalavimai
Sistemos reikalavimai

64 Bit - Windows 7 SP1 / Windows 8 / Windows 8.1

Procesorius

Intel Core i5-750 2.6 GHz / AMD Phenom II X4 955 3.2 GHz

Atmintis

4 GB RAM

Grafika

1GB VRAM - NVIDIA GeForce GTX 460 / AMD Radeon HD5850

Talpa

30 GB
Rekomenduojami sistemos reikalavimai
Sistemos reikalavimai

64 Bit - Windows 7 SP1 / Windows 8 / Windows 8.1

Procesorius

Intel Core i5-2400S 2.5 GHz / AMD FX-8350 4.0 GHz

Atmintis

8 GB RAM

Grafika

2 GB VRAM - NVIDIA GeForce GTX 680 / AMD Radeon R9 290X

Talpa

30 GB
Kita informacija
Kalbos

Anglų

Ispanų

Italų

Lenkų

Portuguese-Brazil

Prancūzų

Vokiečių

Čekų

Išleidimo data

2014 m. lapkričio 18 d.

Leidėjas

Ubisoft

Kūrėjai

Ubisoft Studios

Tinkamas