Fire Emblem: Three Houses (Nintendo Switch) eShop Key EUROPE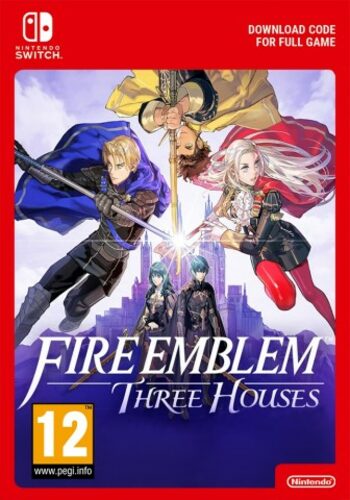 Fire Emblem: Three Houses (Nintendo Switch) eShop Key EUROPE
Atsiprašome, išparduota :(
Nori šio žaidimo? Kai šis produktas vėl bus prekyboje, mes apie tai pranešime el. paštu.
Pranešimas
Europa

Jungtinės Amerikos Valstijos

yra netinkamas regionas aktyvacijai

Aktyvavimo raktas

Tai skaitmeninė produkto versija (CD-KEY)

Momentinis pristatymas
Žaidėjai taip pat peržiūrėjo
Įvertinimai: 3
Dream

2020-08-28

Išversta automatiškai

Puikus valdymas, strategija ir vaidmenų žaidimas su labai įdomia istorija, kuri patiks RPG mėgėjams

MauriRocks

2020-08-01

Išversta automatiškai

Tiesa ta, kad pasakojimo lygmenyje tai yra gana gerai. Užsienio kovų metu visai smagu judėti mokykloje ir pagerinti savo santykius su kitais veikėjais.

Gisby

2020-06-18

Išversta automatiškai

Tai strateginis žaidimas su labai šaunia ir linksma istorija, jis nėra ypač sunkus, nors apima lengvesnius režimus ir sudėtingesnius režimus
Tau taip pat gali patikti
Prekės aprašymas
Fire Emblem: Three Houses (Nintendo Switch) Key
Developed by Intelligent Systems and KOEI TECMO GAMES CO, published by Nintendo, the Fire Emblem: Three Houses Nintendo Switch key brings a one of a kind turn-based, tactical RPG adventure that offers an unprecedented experience for every player daring to dive deep into it. Become a respected professor in the continent of Fódlan, cater your students' skill and prepare them for the fiercest battle to come! You must make sure they are not lacking in any, as their very lives will depend on it.
Three Factions
Create and customize your Professor character and enter the Officer's Academy. A prestigious school that is governed by the Church of Seiros. The academy is responsible for three mighty houses, and your part in all of this is to provide guidance for the school's students. Buy Fire Emblem: Three Houses Nintendo Switch key and choose one of the three factions: The Black Eagles, The Blue Lions, and The Golden Deer. From here, your journey begins!
Choices Matter
In this title, you'll be responsible for both, your students' academic lives as well as the strategic battles they'll have to participate in. The game is full of mysteries and twists, and your choices as a supervisor will determine your disciples well being to a great extent. Teach them magic, teach them combat subtleties, and provide them with such special skills as horsemanship and many others.
Features
Buy Fire Emblem: Three Houses Nintendo Switch key and enjoy some of the best features the series have been known for a hefty while. Command your warrior students and assign a platoon of troops as their backup! Such level of management will provide you with plenty of entertainment value, however, you'll also be able to traverse the vast Garreg March Monastery borders, meet the future rulers of the three houses, and uncover numerous secrets with which the game is loaded!
Kita informacija
Išleidimo data

2019 m. liepos 26 d.

Leidėjas

Nintendo

Kūrėjai

Intelligent Systems, KOEI TECMO GAMES CO., LTD.