STEINS;GATE ELITE Nintendo Switch
Singleplayer

Story Rich

Sci-fi

Partial Controller Support

Gore

Violent

Anime

Visual Novel

Time Travel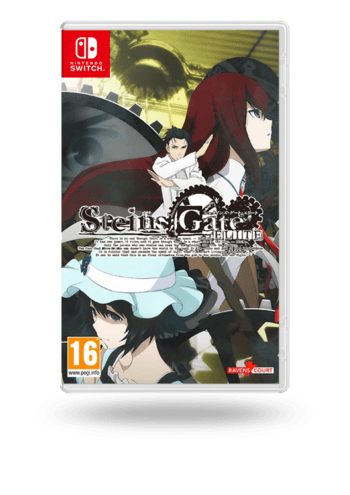 Désolé, en rupture de stock :(
Vous voulez ce jeu ? Nous pouvons vous informer par e-mail lorsque le produit sera nouveau disponible.
Notification
Carte

Ceci est une édition physique du produit ( Carte )
Commentaires: 0
Description du produit
STEINS;GATE ELITE Nintendo Switch CD
Video games serve as a window for us to take flight into fictional worlds where we can interact with things and participate in gameplay as active participants, and STEINS;GATE ELITE CD on Nintendo Switch takes it on another level! 2018-02-19 marks the day when the united effort of developers from MAGES. Inc. and Spike Chunsoft saw the light of day! With a fresh take on what makes adventure games such an electrifying experience, the title invites you to step into the world of action-packed gameplay! Buy STEINS;GATE ELITE Nintendo Switch CD for a cheap price, because you're getting no mere product - you're investing in a memorable experience!
Adventure genre
STEINS;GATE ELITE Nintendo Switch CD is a very fun and rewarding way to spend your time! It's an adventure game and it'll therefore transfer you into a world full of interesting tasks. Find yourself exposed to various riddles and puzzles that'll provoke your mind. This story-based mystery is for those who enjoy overcoming challenges. It's for those who appreciate the sense of achievement once they do overcome the obstacles. Search for clues, answer questions and reach the goal. It won't be fast nor easy, but it'll surely feel rewarding.
Features
STEINS;GATE ELITE CD boasts many gameplay elements that will keep you glued to the screen for hours! Here are some of the main features you get to enjoy:
• Singleplayer - The game features a solo campaign with a story.
• Story-rich - This game builds an excellent story that is mechanically strong and includes well-designed experiences.
• Sci-fi setting - Players enter the technologically advanced future of humanity full of gadgets, space travel, and more.
• Partial controller support - Some parts of the game require a mouse or a keyboard to be completed.
• Gore - Includes gratuitous use of blood and graphic depictions of dismemberment.
• Violent - This title includes blood, gore, gruesome deaths.
• Anime graphics - Environments and characters are designed to look similar to Japanese cartoons.
• Visual novel - You interact with characters, explore the world and engage with problems.
• Time travel - Players can influence the flow of time and take a step back to the past or venture into the future.
• Great soundtrack - The gameplay is accompanied by a soundtrack that echoes all the ups and downs happening in the game.