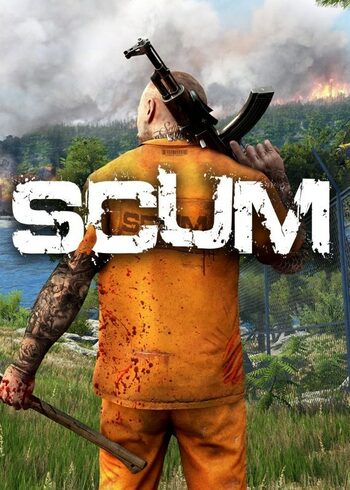 SCUM Steam Key GLOBAL
99.88%

du 25k + les notes sont excellentes!
Prix le plus bas
MondialPeut être activé dans

États-Unis d'Amérique

Clé numérique

Il s'agit d'une édition numérique du produit (CD-KEY)

Livraison instantanée
2

autres offres
Commentaires: 9
Reaper

11/09/2020

Traduit automatiquement

Jeu en développement, mais jouable et divertissant.

31alex

14/01/2021

Traduit automatiquement

Le jeu est très bon. Les jeux sont impressionnants et frénétiques. Il faudrait améliorer un peu les graphismes car il a tendance à prendre du retard à certains endroits de la carte.

Morb

17/01/2021

Traduit automatiquement

Meilleure survie, j'espère que l'actualité grandira souvent, sinon elle deviendra bientôt répétitive. Des graphismes vraiment super sur le moteur Unreal.

Mr X

09/05/2021

Traduit automatiquement

À mon époque, j'ai joué ce que j'ai fait était d'explorer plus ou moins la moitié de la carte et tout semblait très vide et les bâtiments n'ont pas une conception interne très différente de chacun,

Džiuginskis

19/04/2021

Traduit automatiquement

Le jeu est superbe, avec des pépins et des pépins purs, car le jeu est encore incomplet mais jouable. Grand jeu de survie pour jouer avec des amis,
SCUM Steam key
Interested in detailed and hyper-realistic open-world survival games like DayZ or 1H1Z? Maybe you want to try one? Buy SCUM key, because this game is just for you! Open-world survival games are for those who seek challenge, realism and attention to detail and that's exactly what SCUM will provide you! Developed through cooperation of Gamepires & Croteam studios and published by Developer Digital, SCUM brings you to a world where the deciding factor of survival is your own personal skill that you will develop as you play. There are no special privileges. Every player is equal before the indifferent harshness of the SCUM world.
Survive in a large-scale open world
Buy SCUM key and explore a wide-open world measuring in approximately 144 square kilometers. You won't feel a shortage of space anytime soon since it can take multiple hours to get from one end of the map to another. The SCUM world is teeming with life, and this circumstance creates both opportunities and danger. Survival of the fittest is the main rule in SCUM. You will hunt wildlife, or you yourself will be hunted by other players seeking to steal your items. Buy SCUM key and immerse yourself in detailed survival tactics as you chop trees, enjoy crafting that rewards you for patience and explore the world with dynamic weather as well as day and night cycle. Look for awesome loot but just beware of mechs!
Maintain your character's health
SCUM introduces an ambitious and realistic metabolism system that you will have to keep in mind as you play the game with your heavily customizable character. You'll need to constantly micromanage your stats, right from the moment of character creation as you'll choose your age as well as fitness. Your heart rate has an important role for your stamina and you'll also need to eat regularly as well as take care of the necessity to use the toilet. Buy SCUM key if you're into survival mechanics created with passionate attention to detail!
Thrilling unpredictability
SCUM will not be foreign to those familiar with battle royale games. Just like the titles of that genre, SCUM will provide you with hundreds of hours of thrilling tension, because you can never predict what will happen the next moment. What will another encounter with players bring? What's around the next corner? You never know such things in advance, but this is what makes SCUM fun and extremely rewarding. Buy SCUM key and experience it all by yourself!
---
Détails du jeu
Mono-joueur

Multijoueur

CO-Ops

Third-person

First-person

Massive multiplayer
---
Genre :
Fonctionne sur :
Langues :
---
Date de publication :
29 août 2018
Développeurs
Gamepires / Croteam
---
Configuration système
Configuration minimale du système
Configuration système : 64-bit Windows 7, Windows 8.1, Windows 10
Processeur: Intel Core i5-4430 / AMD FX-6300
Mémoire: 10 GB RAM
Graphique: NVIDIA GeForce GTX 960 2GB / AMD Radeon R7 370 2GB
DirectX: 11
Stockage: 50 GB
Configuration système recommandée
Configuration système : 64-bit Windows 7, Windows 8.1, Windows 10
Processeur: Intel Core i5-6600K / AMD Ryzen 5 1600
Mémoire: 16 GB RAM
Graphique: NVIDIA GeForce GTX 1060 3GB / AMD Radeon RX 580 4GB
DirectX: 11
Stockage: 50 GB