South Park: The Stick of Truth PlayStation 4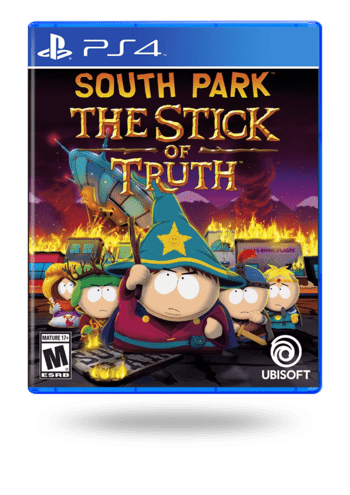 Désolé, en rupture de stock :(
Vous voulez ce jeu ? Nous pouvons vous informer par e-mail lorsque le produit sera nouveau disponible.
Notification
Blu-ray

Ceci est une édition physique du produit ( Blu-ray )
Commentaires: 0
Description du produit
South Park: The Stick of Truth PlayStation 4 CD
If you want to experience the best of Adventure gaming, then South Park: The Stick of Truth CD on PlayStation 4 is one of the titles that should appear in your library of owned games! Electrifying gameplay and a set of features to leave players with everlasting memories are guaranteed. After all, the game is developed by Obsidian Entertainment and brought to you on 2014-03-04 by Ubisoft Entertainment, so it's all about high quality. Buy South Park: The Stick of Truth PlayStation 4 CD at a great price and you will sign up for a rewarding experience that broadens your horizons in the gaming world of entertainment!
Adventure genre
Excel at rapid decision making with South Park: The Stick of Truth PlayStation 4 CD. Being an adventure game, it offers players a great number of situations where they'll have to assess the environment and think of ways to use it in solving problems. The players will master their ability to make not only speedy but also educated guesses. While doing that, they'll also have the opportunity to use their logic combined with the ability to think outside the box. Anyone can experience an intriguing storyline and develop an array of skills.
Features
Countless hours of fun are guaranteed with this title! Lose yourself in the immerse world with South Park: The Stick of Truth CD, further enhanced by these features:
• Singleplayer - The game features a solo campaign with a story.
• Full controller support - No keyboard or mouse is required - the game is fully playable via controller.
• RPG - Players have to level up their character, complete missions, and embark on quests that may change the world.
• Story-rich - This game builds an excellent story that is mechanically strong and includes well-designed experiences.
• Open world - You can freely explore every nook and cranny and discover all the hidden secrets.
• 2D graphics - The world is two-dimensional and cannot be rotated to different angles.
• Funny - This title emphasizes fun via intentionally humorous design and story choices.
• Fantasy setting - Players enter a world full of might and magic, fantastic creatures, warriors, and more.
• Zombies - Hordes of flesh-eating undead lurk behind every corner.
• Comedy - The game includes many intentionally humorous moments.