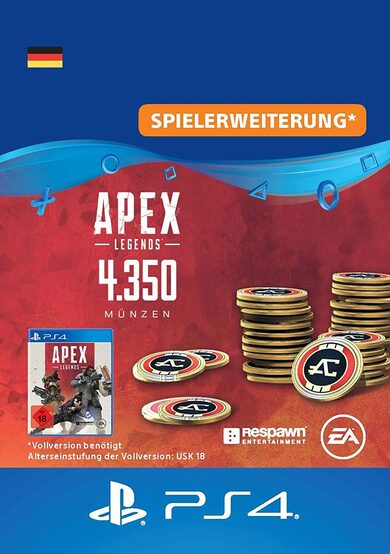 Apex Legends 4350 Apex Coins (PS4) PSN Key GERMANY
Désolé, en rupture de stock
AllemagneNe peut pas être activé dans

États-Unis

Clé numérique

Il s'agit d'une édition numérique du produit (CD-KEY)

Livraison instantanée
Important:
For PS4 version of the game. Only works with GERMANY account.
Apex Legends 4350 Apex Coins (PS4)
It is time for you to show your love for your favourite Legend and customize them to the max. Buy 4350 Apex Coins and make the most of your experience with the game. The in-game store has many wonderful bits and pieces to spice up your next run, or maybe you want to stand out and show everyone you're special; either way, Apex has it all.
Packaged packs are packed
Apex packs are a sure-fire way to gain something new and bright for your roster. Customize your Legends and take the fight to the enemy. At the same time, you can try to obtain the ultra-rare Heirloom gear. It is said its drop rate is about 1%, so buy 4350 Apex Coins and who knows, maybe you will be the luckiest of them all! And even should the RNG turn from you, the Apex devs won't! The packs have certain guarantees within them, so you will not be left empty-handed even in the worst of circumstances.
Season's rewards
The Coins may also be used to purchase Battle Passes. These are the special element that adds additional rewards to your gameplay. As you level up, new gear, materials or skins will fall right into your lap. And let's not forget they are exclusive – once they are gone, they're gone for good! Buy 4350 Apex Coins and hop right in; any of the rewards you missed since buying the ongoing Battle Pass will catch up to you, depending on your existing level. Therefore, even in the middle of the season, the Pass is well worth the price.
A different look
All in all, Apex Coins can be used on a variety of items. You can buy skins, character voice lines and weapons. Anything in the store is yours for the taking. Not only that, but the game doesn't restrict you to these transactions either. Skin can be crafted – meaning you won't have to despair if you didn't get your favourite. Buy 4350 Apex Coins and gather the materials for those customizations, since they may be obtained via Battle Pass or the packs (both worthwhile purchases on their own too). So, in a way, everything in Apex Legends has its own lifecycle. Be sure to see it for yourself!
---
Date de publication :
February 15, 2018
Développeurs
Respawn Entertainment
Éditeur
Electronic Arts Inc.
---