Override: Mech City Brawl Xbox One
Jeu solo

Multijoueur

Prise en charge complete manette

Coopérative

Co-Op en ligne

Écran partagé

Coop locale

Multijoueur en ligne

Multijoueur local

Mechs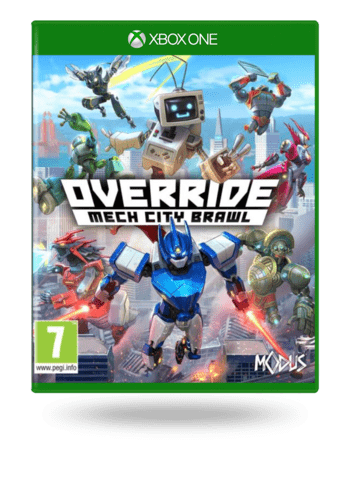 Désolé, en rupture de stock :(
Vous voulez ce jeu ? Nous pouvons vous informer par e-mail lorsque le produit sera nouveau disponible.
Notification
Achat protégé

Tous les achats au sein de

Blu-ray

Ceci est une édition physique du produit ( Blu-ray )
Description du produit
Override: Mech City Brawl CD
Developers from The Balance Inc and well-known Modus Games present this rollicking game that redefines indie experience as you know it! 2018-12-04 marks the day of the arrival of Override: Mech City Brawl CD on Xbox One, welcomed by critics and gaming enthusiasts alike. Watch the intricacies of the gameplay unfold before your eyes as you make your way through the game, besting challenges thrown your way and experiencing Indie from a new and fresh perspective! Ready to expand your collection of owned games? Buy Override: Mech City Brawl Xbox One CD to enjoy smooth gameplay, immersive features that combine brilliance and innovation!
Indie genre
If you're tired of all the popular mainstream games, then Override: Mech City Brawl Xbox One CD is definitely for you. As it's an indie game, it had no operational nor creative restrictions while in the making. Therefore you can dive into this unseen narrative without being able to predict what's coming next. This unique experience will be a pleasant surprise for anyone who's into new things. Get into unseen situations and test your adaptability skills. How fast are you going to understand the mechanics of the gameplay? How fast will you succeed?
Features
Override: Mech City Brawl CD has a multitude of great gaming features one must first investigate! Here is the entire list of details you should know about the title:
• Singleplayer - Players can engage with the story of the solo campaign.
• Multiplayer - This feature allows you to play with others.
• Co-op - Complete missions by doing them together with friends.
• Online co-op - Connect with other players over the internet as cooperate to successfully overcome challenges.
• Local co-op - You can complete tasks together with a friend by playing offline on the same machine.
• Anime graphics - Environments and characters are designed to look similar to Japanese cartoons.
• Futuristic setting - This title takes a more realistic, grounded approach on how technology will evolve in the future.
• Competitive - This title emphasizes improving your skills, creating effective strategies and beating opponents in matches.
• Stylized graphics - This title utilizes simplified structures, painted textures, and exaggerated features to present the environment.
• Mech - Players strap themselves into technologically-advanced robots and use them to fight opponents.
Autres détails
Date de sortie
Éditeurs
Développeurs
Modus Games LLC
The Balance Inc
Fonctionne sur