Dishonored: Death of the Outsider Xbox One
Singleplayer

Atmospheric

Full controller support

Story Rich

Open World

First-Person

Gore

Stealth

Violent

Dark

Magic

Steampunk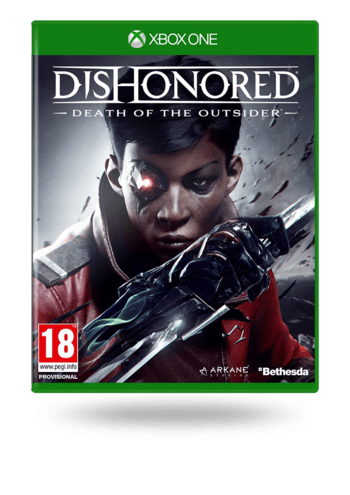 Désolé, en rupture de stock :(
Vous voulez ce jeu ? Nous pouvons vous informer par e-mail lorsque le produit sera nouveau disponible.
Notification
Blu-ray

Ceci est une édition physique du produit ( Blu-ray )
Commentaires: 0
Description du produit
Dishonored: Death of the Outsider Xbox One CD
The interactivity is one aspect of video games that make them an engrossing form of digital entertainment, and Dishonored: Death of the Outsider CD on Xbox One is no exception! Developed by no other than Arkane Studios and published by Bethesda Softworks on 2017-09-14, the game boasts high-quality gameplay enhanced by a set of engaging features to provide a fun and challenging experience for you. If you want to try something new in the horizon of Action video games, Dishonored: Death of the Outsider CD is a splendid choice as it represents the essence of the Action and also adds a fresh take on it! Buy Dishonored: Death of the Outsider Xbox One CD cheaper and begin your adventurous time today!
Action genre
With Dishonored: Death of the Outsider Xbox One CD belonging to the action genre, you'll be able to face challenges while using an arsenal of different items as well as natural skills, among which there's speed, focus, and plenty others. Successfully selecting a target, choosing the right combat movements and maintaining focus while facing distractions will be some of the main areas where you'll have to test your pace and attention span. Mastering these techniques won't make you a merely more competent player; they will help you become a better learner in real life too.
Features
Don't miss out on Dishonored: Death of the Outsider CD! Step into this title's impressive world and enjoy the innovative gameplay with these features:
• Singleplayer - The game includes a story campaign meant for solo players.
• Atmospheric setting - The immersive world is accompanied by stunning visuals, charming soundtrack, and fluid gameplay mechanics.
• Full controller support - The game can be played entirely with a controller without a keyboard or a mouse.
• Story-rich - The game heavily focuses on building a well-crafted narrative above everything else.
• Open world - You can freely explore every nook and cranny and discover all the hidden secrets.
• First-person view - You view the world through the eyes of your character.
• Gore - Includes gratuitous use of blood and graphic depictions of dismemberment.
• Stealth - You have to distract foes, use disguises, and hide to avoid alerting enemies throughout the game.
• Violent - This title includes blood, gore, gruesome deaths.
• Steampunk setting - You enter the dark, gritty and strangely charming world full of steam-powered machinery and gear-laden gadgets.
• Magic. - You can utilize, combine and create powerful spells to help you in your journey.
• Dark setting - Players explore a gritty, awful world that revolves around mature themes not meant for kids.