Call of Duty: Black Ops Wii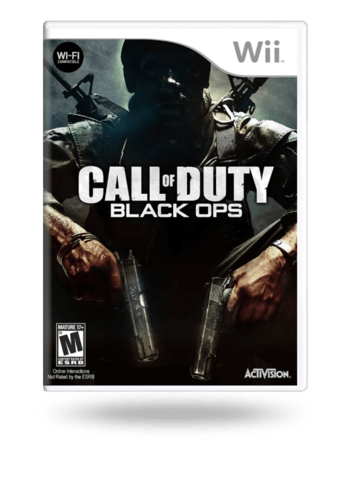 Désolé, en rupture de stock :(
Vous voulez ce jeu ? Nous pouvons vous informer par e-mail lorsque le produit sera nouveau disponible.
Notification
Blu-ray

Ceci est une édition physique du produit ( Blu-ray )
Commentaires: 0
Description du produit
Call of Duty: Black Ops | Used Wii Disk
Call of Duty: Black Ops Used Wii CD brings an action FPS multiplayer game that will glue you to the screen for hours upon hours! Your every playthrough will immerse you deeper and deeper within the game's setting, and you're bound to love the results! Developed by Treyarch and published by Activision, the title presents frantic fast-paced action, precise mechanics, stunning visuals, and overall, gameplay you won't be able to forget for years to come. Buy Call of Duty: Black Ops used Wii CD - start a globe-trotting adventure as an elite Black Ops agent and participate in secret wars which happened behind the scenes of the Cold War! Don't miss this chance to increase your physical game collection - buy a new or second-hand disk cheaper! A pre-owned copy costs less and quality-wise it's just as good as brand new ones!
Immersive modes
Embark on a complex and brutal campaign where you'll have to partake in covert warfare affairs with classified objectives and total deniability from your government. Play as an elite Black Ops soldier, hired to resolve only the most dangerous conflicts throughout the world. If you're captured in action, there's no backup and there's no one coming to your rescue – it's between you and the enemy! The iconic multiplayer makes its return in CoD Black Ops Wii, and this time it's even broader and more rewarding. Enjoy a variety of new perks, in-depth character and weapon customization, and a bunch of awesome in-game modes! From wager matches to your beloved combat training activities where you can test your skills against both, co-op, and AI opponents - Call of Duty: Black Ops has it all!
Gameplay features
Buy Call of Duty: Black Ops pre-owned Wii disk and experience the thrills and chills that'll come together with one of the fan favourite modes of all time – Zombies! They are faster, hungrier, and even more vigilant than they were before, and that only means that you'll get to have twice the fun by blowing them to pieces!
• Intriguing campaign. Enjoy the story as Captain Alex Mason of the MACV-SOG, Jason Hudson of the CIA or become the Russian-born soldier Viktor Reznov of the Red Army;
• Tons of modes. From Team Deathmatch, Free-for-All, Capture the Flag to Search and Destroy, Sabotage, Sticks and Stones - this title includes these modes and more;
• New mechanics. Your character now vocally reacts to the events occurring around them, can dive-to-prone and mount flashlights on certain weapons;
• Cheaper Call of Duty: Black Ops Used Wii CD price.