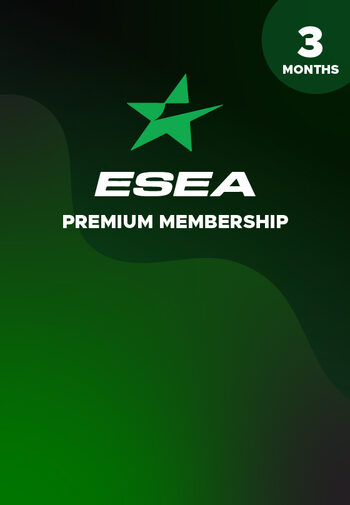 ESEA Premium Membership 3 Months Key GLOBAL
GlobalKann aktiviert werden in

Vereinigte Staaten von Amerika

ESEAKann bei ESEA aktiviert werden.

Digitaler Key

Dies ist eine digitale Ausgabe des Produkts (CD-KEY)

Sofortige Lieferung
Wichtiger Hinweis:
This product has no pre-set expiration date.
ESEA Premium Membership 3 Months
Are you enjoying the CS:GO and think your skills are better than average? Want to take your gameplay to another level and test your capabilities against other players all over the world? Then buy Esea Premium Membership 3 Months and join the innovative matchmaking service that will help you improve!
Connect with others
It can be hard to reach new heights when you do not have much to compare your skill to. Esea has you covered, though, as they connect you with likeminded people, giving you a chance to learn from the best. The Premium membership will let you join forums and share your experiences, as well as hear the opinions of others. Maybe there are tips and tricks that will help you improve, or a direct discussion of strategy – all available when you buy Esea Premium Membership 3 Months.
Help you succeed
Esea is all about growth. Their anti-cheating measures are in place to keep the even playfield, as all the matched players are kept on the similar skill level (no one will mow you down and you won't stop on them either). It will be a balanced match with both sides giving their all. Not to mention that the service offers the players to view and keep track of their statistics, allowing for a better understanding of various mistakes and successes.
Earn rewards
The platform is dedicated to elevating gameplay, so once you buy Esea Premium Membership 3 Months, you are eligible to compete and earn your spot among the best of the best. And as a nice bonus, Esea gives out money prizes for those who compete and perform well. So, not only will you be able to learn and improve with the help of others, there will be an extra initiative at the end. So, join one of the best networks around and go pro!
Veröffentlichungsdatum:
9. Juli 2016
---