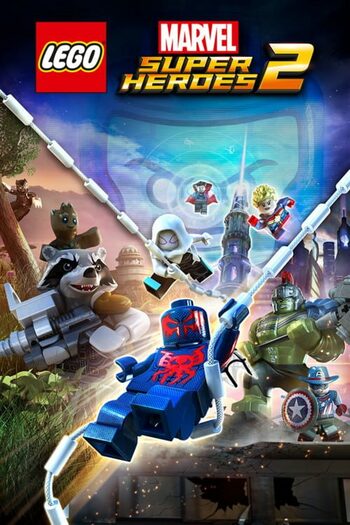 LEGO: Marvel Super Heroes 2 Steam Key GLOBAL
Sdílejte to s někým, kdo by to chtěl!
Nejlevnější nabídka
Looking for good deals?
Get them delivered to your inbox
Available at checkout:
GlobálníLze aktivovat v

Spojené státy americké

Digitální klíč

Toto je digitální vydání produktu (CD-KEY)

Okamžité doručení
9.91

Skvělé hodnocení

(150 k+ prodejů za posledních 6 měsíců)
Recenze: 0
Popis produktu
LEGO: Marvel Super Heroes 2 Steam Key
Set in the world of LEGOs, LEGO: Marvel Super Heroes 2 gives you the chance to play as your favorite Marvel superheroes to battle against powerful enemies in the time-tossed city of Chronopolis. Packed with signature LEGO humor for fans of all ages, gamers will go head-to-head with the time-travelling Kang the Conqueror through Ancient Egypt and many more iconic Marvel universe places! Do you have what it takes to defeat Kang the Conqueror, a time-travelling villain of awesome power? Buy LEGO: Marvel Super Heroes 2 Steam key to find out!
Is LEGO: Marvel Super Heroes 2 open-world?
LEGO: Marvel Super Heroes 2 key has a massive open-world in-game environment full of frenzied fighting. In fact, the locations you get to see in the game exceeds all expectations as you travel through Ancient Egypt, The Old West, Sakaar, New York City in 2099, Xandar and many more famous places of the Marvel universe! Not only is the Lego Marvel Super Heroes 2 gameplay prominent in the open-world experience it provides but also introduces an amazing story for you to become a part of! The adventures you embark on are accompanied by light-hearted humour that follows LEGO games through the years. The thrill, the fun and the rewarding experience lie in wait for you!
Another thrilling LEGO story
Kang the Conqueror aims to conquer the entire universe, using the powers of the Infinity Stone of Time, which allows him to gather forces from all over the Marvel multiverse. As the narrative unfolds through your actions, Avengers and allies from all over the multiverse gather their forces to find the Nexus shards and even more allies to take down the vicious Kang the Conqueror! Buy LEGO: Marvel Super Heroes 2 key and participate in an epic cosmic battle across the expansive open-world of Chronopolis, the central location of this in-game world! It is time to do what is right and not shy away from the responsibility befalling your shoulders!
Major gameplay features
LEGO: Marvel Super Heroes 2 gameplay offers a variety of key features to enjoy as you work hard to save the universe from another greedy villain. The gameplay must be smooth and entertaining for you to do your job well, right?
• Vast open-world. Explore 18 different Marvel locations throughout time and space, all of which come together to form one huge, incredible Chronopolis;
• Immersive narrative. Enjoy a story told about characters from Marvel multiverse, dealing with time-travelling to catch and stop Kang the Conqueror before he can execute his evil plans;
• Manipulate time. Time is yours to command as you travel through timelines and different locations in different periods to discover Nexus shards and increase the forces of your allies;
• A roster of Marvel characters. Work with the greatest heroes from Marvel multiverse and face the villains well-known among the fans of the franchise;
• Cheaper LEGO: Marvel Super Heroes 2 price.
If you want to join even more heroic adventures, be sure to check out our collection of best super hero games!
Systémové požadavky
Minimální systémové požadavky
Systémové požadavky

Windows 7 / 8 / 8.1 / 10

Procesor

Intel Core i3-3240 / AMD Athlon X4 740

Paměť

4 GB RAM

Grafika

GeForce GTX 460 / Intel Iris Pro 5200 / Radeon HD 5850

Úložný prostor

16 GB
Doporučené systémové požadavky
Systémové požadavky

Windows 7 / 8 / 8.1 / 10

Procesor

Intel Core i5-4570T / AMD FX-6350

Paměť

4 GB RAM

Grafika

GeForce GTX 750 Ti / Radeon HD 7970

Úložný prostor

16 GB
Další podrobnosti
Jazyky

Angličtina

Arabština

Dánština

Francouzština

Holandština

Italština

Japonština

Korejština

Němčina

Polština

Portuguese-Brazil

Ruština

Traditional Chinese

Španělština

Datum vydání

14. listopadu 2017

Vydavatel

Warner Bros. Interactive Entertainment

Vývojáři

Traveller's Tales

Pracuje na