Top Up Tower Of Fantasy Tanium Global
Share with someone who would like this!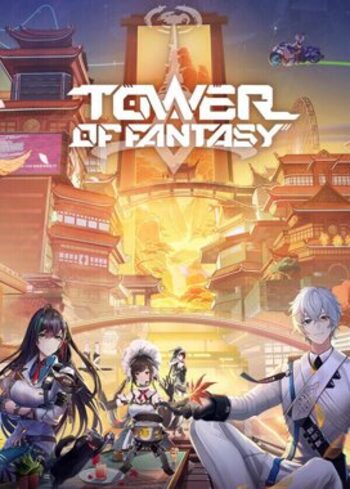 Cashback deal
Top Up Tower Of Fantasy Tanium Global
GlobalCan be activated in

United States of America

Direct top-up

Direct delivery

to your account
Select denomination*
Authorized partner
Safe & secure payment
Tower Of Fantasy Tanium
Unlock your true potential and dominate the gaming realm with Tower of Fantasy top up. Elevate your gaming experience to new heights as you immerse yourself in a breathtaking world of adventure, strategy, and endless possibilities. Whether you're a seasoned gamer or a newcomer, this top-up service will give you the edge you need to conquer your foes and achieve unparalleled success. Embark on a journey filled with epic quests, treacherous dungeons, and awe-inspiring landscapes. Tower of Fantasy top up provides you with the means to enhance your character's abilities, unlock rare items, and access exclusive features. With each top-up, you'll gain valuable resources, experience boosts, and powerful equipment that will ensure your victory in the most challenging battles!
What is Tower of Fantasy Tanium?
In the enchanting world of Tower of Fantasy, Tanium reigns as the esteemed premium currency. This coveted currency holds the power to unlock extraordinary possibilities within the game. Obtainable exclusively through Tower of Fantasy top-up, Tanium presents an opportunity for you to enhance your gameplay experience and delve deeper into the realm of fantasy. By acquiring Tanium, you gain access to a realm of endless potential. With a simple conversion at a 1:1 ratio, Tanium can be exchanged for Dark Crystal, a valuable resource that fuels progression and unlocks hidden treasures. Utilizing the abundance of Tanium in your possession, you can harness its might to make pivotal purchases within the Store, granting you an advantage on your noble journey.
What can I get when I top up Tower of Fantasy?
Get ready for the exciting benefits of Tower of Fantasy top up! Check out what awaits you:
• Premium Currency. When you top up Tower of Fantasy, you get its premium currency called Tanium. Convert Tanium to Dark Crystals – another valuable currency that fuels your gameplay;
• Limited Gift Packs. Unlock exclusive Packs filled with abundant resources to boost your gameplay. From Red Nucleus Packs to Supply Vouchers and Weapon Batteries, these Packs are a gamer's dream;
• Daily Supply Boxes. Purchase Hykros, Banges, and Black Market Supply Boxes using Tanium. Each box brings unique rewards and can be yours for 60, 180, or 180 Tanium, respectively;
• Monthly Pass Supplies. Grab the Monthly Pass Supplies and receive a generous gift of 300 Tanium, giving you extra resources to fuel your adventure every month;
• Cheap Tower of Fantasy top-up price.
Where can I buy Tower of Fantasy top-up?
Embark on your journey with a cheap Tower of Fantasy Tanium available right here at Eneba! Experience the seamless transaction process on our user-friendly platform and discover a range of enticing Tower of Fantasy top-up options. Covert Tanium to Dark Crystals and other valuable in-game currencies and advance your adventures faster. Dive into character customization, level up faster, and never run out of supplies. Unleash the power of Tower of Fantasy Tanium and enjoy a world of rewards, resources, and thrilling adventures!