Top Up PUBG Mobile UC Global
Share with someone who would like this!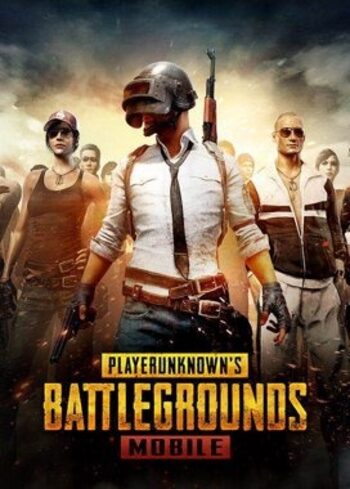 Cashback deal
Top Up PUBG Mobile UC Global
Select denomination*
Authorized partner
Safe & secure payment
PUBG Mobile UC
PlayerUnkown's Battlegrounds (PUBG) is a gaming industry giant of the modern generation, that's singlehandedly responsible for initializing the massive popularity of the entire Battle Royale genre. In 2018, Tencent Games released the PUBG Corporation game for mobile devices such as Android or iOS systems. Without question, PlayerUnkown's Battlegrounds for Android and iOS can be considered a pinnacle of mobile shooters. It's hard to find an online action game mobile port that's accustomed to user comfort to this margin! Shooting, looting, cooperating, and surviving in a battle between 100 players on a shrinking battlefield is just as engaging playing PUBG on mobile as it is on PC or consoles. Users can download the game completely free of charge, however, if you want to make the most out of your experience, buy PUBG UC top-ups!
What is PUBG Mobile UC?
PUBG Mobile UC is a virtual currency specific to PUBG Mobile. It can be used to purchase a wide range of in-game items, including weapon skins, outfits, crates, emotes, and more. UC provides players with the ability to customize their characters, weapons, and overall gameplay experience, making it a sought-after currency within the game. Buy PUBG Mobile UC to reap the benefits - best top-ups for PUBG UC deals await!
What can you buy with top-up for PUBG Mobile?
• Weapon skins;
• Outfits;
• Crates;
• Emotes;
• Royale Pass Upgrades.
UC currency works similarly to many virtual currencies from alternate online gaming titles as it also used to purchase exclusive in-game items that have a measurable real-world value. Don't worry about "pay to win" or any other unfair advantages – the in-game assortment mostly consists of cosmetic items such as character clothing, weapon skins, parachutes, and crates. Tactical third-person shooters like PUBG often involve staring at your character for minutes or hours on end. Why not buy PUBG Mobile UC top-up and make your avatar looks as cool as possible as you do? Find the best PUBG UC price and have the full experience!
How do I get PUBG UC?
There's no better place to find the loot you're looking for than here in our store where we gathered everything you might need to start or enhance your journey. While you're here, you might as well stock up on PUBG UC, the game's virtual currency that allows you to buy even more sleek cosmetic items, like clothing, weapon skins, crates, and parachutes! Usually achieving victory comes with a cost, after all, nothing in life is free. PUBG UC purchased on Eneba can help you spend less and gain more while scoring those victories!