Kerbal Space Program: Breaking Ground (DLC) Steam Key GLOBAL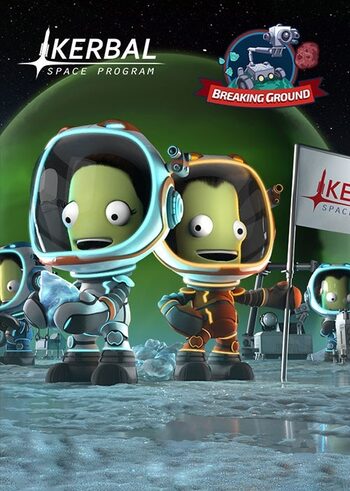 Kerbal Space Program: Breaking Ground (DLC) Steam Key GLOBAL
Share with someone who would like this!
ГлобальныйМожно активировать в

Соединенные Штаты Америки

Цифровой ключ

Это цифровая версия продукта (CD-KEY)

Мгновенная доставка
9.90

Рейтинг Превосходно

(200k+ sales in the last 6 months)
Обзоры: 0
Описание продукта
Kerbal Space Program: Breaking Ground Steam Key
Squad developers present us with another entertaining extension to the indie space flight simulation title Kerbal Space Program that offers hours of fun time out there in space! The Breaking Ground DLC introduces more celestial bodies, an expanded toolset, and more! Your job in the Kerbal Space Program is to build a spaceship capable of taking off into orbit without blowing up. You will have plenty of parts to choose from. Every single part has a function and affects your ship in different ways. The game's physics engine is made to simulate the way your ship would take off or crash as accurately as possible to real-life scenarios, so buy Kerbal Space Program: Breaking Ground Steam key and enjoy more content in your space adventures!
Breaking Ground (DLC) gameplay features
Kerbal Space Program: Breaking Ground key arrives with a set of additional content and features to enrich your KSP gameplay experience and freshen things up!
• More robotic parts. A hinge, a pistol, rotational servo in various sizes, and a rotor arrive with this DLC, and can be altered by players;
• More celestial bodies. Now space is filled with more meteors, rock outcroppings, craters, cryovolcanoes, and more celestial bodies that wait to be explored;
• A new suit. A new suit to expand your space wardrobe - have to explore space looking stylish and slick;
• Expanded scientific research. The DLC expands on scientific researching, adding more content so you can explore and investigate in more detail: solar panels, weather stations, increased storage, and more;
• Cheaper Kerbal Space Program: Breaking Ground price.
Explore what lies beyond
Join the little aliens in their quest to explore every celestial body they come across in their space travels, and The Surface Features addition makes the exploration more thorough and fun, so additional celestial bodies was the jackpot addition to the game. Buy Kerbal Space Program: Breaking Ground key and embark on a journey across the skies that you can only gaze upon in real life, looking for evidence of extraterrestrial life forms and other otherworldly things to inspect once you collect samples from various meteors, craters, and more! A scientific indie game where you can travel across space and play a true scientist? Yes, please!
Системные требования
Минимальные системные требования
Системные требования

Windows 7 64-bit

Процессор

Core 2 Duo

Память

4 GB RAM

Графика

DX10 (SM 4.0) capable, 512MB VRAM

Накопитель

3 GB
Рекомендуемые системные требования
Системные требования

Windows 10 64 bit

Процессор

Core i5

Память

8 GB RAM

Графика

DX10 (SM 4.0) capable, 1GB VRAM

Накопитель

4 GB
Другие детали