F1 2019 Legends Edition Steam Key GLOBAL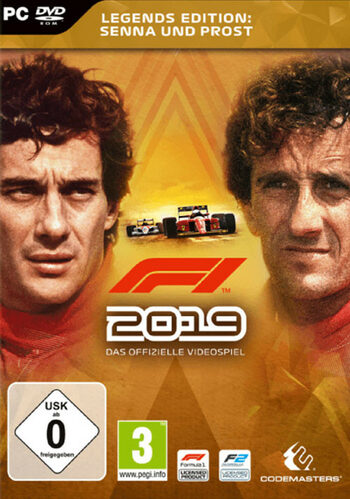 F1 2019 Legends Edition Steam Key GLOBAL
Share with someone who would like this!
ГлобальныйМожно активировать в

Соединенные Штаты Америки

Цифровой ключ

Это цифровая версия продукта (CD-KEY)

Мгновенная доставка
Обзоры: 0
Вам также может понравиться
Описание продукта
F1 2019 Legends Edition key
Are you ready to take on greater challenge? Check out F1 2020 Steam key and buy the newest addition to the series!
Official game based on Formula One World Championship of 2019 is set to the be the best release from the developer Codemasters. No more just watching the races on your silver screen, it is time to grip the wheel in your own hands; buy F1 2019 Legends Edition key and see how well you will hold up against the bigshots of F1. And since all the contenders from the race are available in the game, you will surely have your pick of adversaries!
F2 is finally here
You will have a chance to test your skill not only against the well-known F1 racers, but also see what it's like to drive in the F2 tracks. The mode presents some restrictions that are not applicable to the F1 cars, which ensures your experience with the different league is genuine and challenging. Granted, when you buy F1 2019 Legends Edition key, you will only have access to tracks and drivers that were included in F2's 2018 teams, but there's still plenty of content to keep you occupied.
Better than before
Codemasters truly went all out and graphics have been their priority. The newest game displays enhanced environments in order to elevate the gameplay as well as show off the capabilities of current technology. Furthermore, it increases engagement, making you feel like you truly are in those familiar tracks! Broadcast sounds and video have also been improved, underlining the feeling of realism that is especially important in games like this, so buy F1 2019 Legends Edition key and experience it all by yourself.
Legends Editions
Live through the greatest rivalry that F1 has ever known! Take command of Ayrton Senna and his trusted vehicle 1990 McLaren MP4/5B, or pick Alain Prost and the famed Ferrari F1-90. There are 8 challenges you can race through, experiencing the thrill and danger of high-speed competitions. Additionally, you will receive multiplayer car liveries themed after the two famous and beloved drivers, allowing you to show off your dedication for all to see!
Системные требования
Минимальные системные требования
Системные требования

64 bit Windows 7, Windows 8, Windows 10

Процессор

Intel i3 2130 / AMD FX4300

Память

8 GB RAM

Графика

Nvidia GTX640 / HD7750

Хранилище

80 GB
Рекомендуемые системные требования
Системные требования

64 bit Windows 10

Процессор

Intel i5 9600k / AMD Ryzen 5 2600x

Память

16 GB RAM

Графика

Nvidia GTX 1660ti / RX590

Хранилище

80 GB
Другие детали
Языки

Portuguese-Brazil

Английский

Испанский

Итальянский

Немецкий

Польский

Русский

Французский

Японский

Дата выпуска

28 июня 2019 г.

Издатель

Codemasters

Разработчики

Codemasters

Работает на