Euro Truck Simulator 2 (GOTY) Steam Key GLOBAL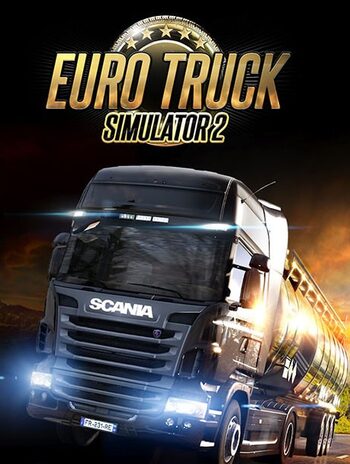 Euro Truck Simulator 2 (GOTY) Steam Key GLOBAL
Share with someone who would like this!
ГлобальныйМожно активировать в

Соединенные Штаты Америки

Цифровой ключ

Это цифровая версия продукта (CD-KEY)

Мгновенная доставка
Вам также может понравиться
Обзоры: 0
Описание продукта
Euro Truck Simulator 2 (GOTY) Steam Key
Euro Truck Simulator 2 Game of the Year Edition includes:
• The original game;
• Euro Truck Simulator 2 - Going East!;
• Ice Cold Paint Jobs;
• Halloween Paint Jobs;
• Force of Nature Paint Jobs;
• Polish Paint Jobs.
The second game in the Euro Truck Simulator series, Euro Truck Simulator 2 GOTY Steam key lets you really feel what it's like being a long-distance truck driver. In this relaxing game you get to choose your truck, pick up your cargo and deliver it to the required destiny point somewhere either in Europe or the USA. The journey is long and the roads stretch into the horizon but SCS Software made sure that the experience of reaching your destination is nothing less than enchanting.
A personal business model
Want more vehicles or drivers to make the delivery easier? Once you get some experience in the game by travelling around the continent a couple of times, your business might begin growing exponentially, so stay focused and keep aiming for more! Make your efforts consistent throughout the game and you will be able to create your own firm, hire other drivers, buy garages, new trucks and much more. Slowly but surely, here you can grow your own empire.
A community-based experience
With the Euro Truck Simulator 2 GOTY Steam key, besides the solo experience you also get to join the World of Trucks online community, where the most dedicated drivers share their experiences worldwide. Due to the game's massive popularity, there are many travellers itching to share their journeys. Strolling along the lonely road is relaxing and awesome, but having someone to share your experiences with, makes the whole journey that much better!
A digital road-trip
At the end of the day, Euro Truck Simulator 2 GOTY key offers everything you love about road travelling and more. The scenery you traverse is recreated to the most scrupulous detail. The cities, towns, and villages are worth every minute, and the vast environments that will lead you through hours upon hours of gameplay are simply breathtaking.
Системные требования
Минимальные системные требования
Системные требования

Windows XP/Vista/7

Процессор

Core 2 Duo 2.2 GHz

Память

2 GB

Графика

GeForce 6800
Другие детали
Языки

Porguguese-Brazil

Simplified Chinese

Английский

Болгарский

Венгерский

Греческий

Датский

Испанский

Итальянский

Корейский

Немецкий

Нидерландский

Норвежский

Польский

Португальский

Румынский

Русский

Турецкий

Украинский

Финский

Французский

Чешский

Шведский

Японский

Дата выпуска

19 октября 2013 г.

Издатель

SCS Software

Разработчики

SCS Software

Работает на