Red Dead Redemption 2 PC Rockstar Key GLOBAL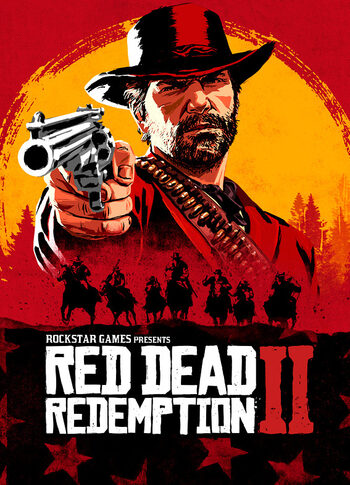 Red Dead Redemption 2 PC Rockstar Key GLOBAL
4 people watching this product
Share with someone who would like this!
Cheapest offer
Buy as a gift
Receive this product as a gift PDF.
Available at checkout:
GlobalCan be activated in

United States of America

Digital key

This is a digital edition of the product (CD-KEY)

Instant delivery
Reviews: 46
RaixGames

5/26/2020

+40

I recommend this game to everyone cause this is a game that everyone should play + Amazing story + Amazing graphics - You probably need a Nasa PC to run this on the best details,

czebot

5/22/2020

Auto-translated

The game is great. For Rockstar, he is the Witcher for CDPR - the ideal. The plot is very addictive, you want to watch cutscenes and listen to stories for hours.

kentprodan

5/26/2020

Auto-translated

One of the best games I've played in years!

Questiondad

9/21/2020

This is most likely my favorite game out of everything that I have played. I have combined (on PC and Xbox) played through this game around 4 times and loved it every single moment.

Alkis30

10/2/2020

+4

Mostly good, sometimes bad, never ugly. A staggering technical achievement, a deliciously gooey shooter, the most accurate mud simulator outside of actual mud,
Red Dead Redemption 2 PC Rockstar Key
Developed by Rockstar Games, of Grand Theft Auto fame, Red Dead Redemption 2 is a sequel to a western-themed open-world game of the same name first released back in 2010. Buy Red Dead Redemption 2 PC key and engage in another Rockstar-provided gaming experience of an epic scale that is definitive for the contemporary decade of the gaming industry. As Red Dead Redemption 2 is coming from consoles to the PC platform, it introduces various changes and additions that repeatedly expand upon an already jaw-dropping installment of this amazing Wild West franchise.
Red Dead – the ultimate cowboy fantasy
Red Dead Redemption stands as the ultimate cowboy fantasy, masterfully immersing players in the untamed heart of the Wild West. With its meticulous attention to detail, the game captures the raw beauty and harsh realities of cowboy life, offering a compelling blend of adrenaline-pumping gunfights, expansive open-world exploration, and immersive storytelling. While it is a mature adventure, often showcasing blood and gore, and intense violence that is not suitable for children, you can live out your Wild West dreams, riding on horseback across stunning landscapes, engaging in epic shootouts, and experiencing the camaraderie and tensions of being part of a gang. The game's rich narrative, dynamic events, violence, gore, and authentic setting transport you to another time, making Red Dead 2 not just a game but a journey into the very essence of outlaw legend and lore. After a long day in the saddle, you might find yourself hunkered down by a campfire, sharing stories with gang members over a simple, hearty meal that might just include a tin of beans and a baked potato.
An epic 60-hour-long campaign
Red Dead Redemption 2 features a 60-hour-long single-player campaign of epic proportions. The year is 1899. You play as an outlaw named Arthur Morgan, a member of the infamous Van der Linde gang who grew up on the wrong side of the law. Purchase Red Dead Redemption 2 PC key to join Arthur's amazing journey, which takes place in an ugly time where outlaws like him are no longer welcome. The story mode features everything from action-packed high-stakes heists to engaging emotional moments of well-written character development. Here, you'll recognize familiar faces from the first game, like John Marston and Dutch Van der Linde. Meanwhile, multiplayer fans can jump into Red Dead Online for some one-on-one Mexican stand-offs and heists for blood money, become bounty hunter, battle other players, and participate in more thrilling activities.
Echoes of Classic Western Cinema in Red Dead 2
Red Dead Redemption 2, with its sprawling narrative and cinematic aesthetic, shares a kindred spirit with seminal Western films like "The Good, the Bad and the Ugly" and "Once Upon a Time in the West." The game not only mirrors the sweeping landscapes and iconic showdowns that made these films cornerstones of the Western genre but also channels their ability to weave complex stories of morality, redemption, and the inexorable march of progress. Just as Sergio Leone's masterpieces painted a gritty, operatic vision of the Wild West, Red Dead Redemption 2 offers players a canvas where every gunfight, moral decision, and ride across the sunset-streaked plains feels as if it's a scene straight out of these epic tales.
Rich with engaging side activities
Rockstar Games has built a reputation for being the masters of open-world video games, which they proved time and time again with Red Dead Redemption 1, Grand Theft Auto V, and other titles. At its heart, Red Dead Redemption 2 is another jewel that adds to a great collection of games Rockstar has published over the years. In fact, it might just be the greatest pinnacle in this long line of groundbreaking titles. Take a look at what this massive game has in store for you:
Red Dead Redemption 2's open world and exploration
The world of Red Dead Redemption 2 is vast, seamlessly blending the untamed wilderness with pockets of civilization, and the PC version allows you to explore the wild prairies in one of the best AAA games of the genre. With increased draw distances and higher resolution, the game's diverse biomes, from snow-covered mountains to sweltering deserts, are rendered in exquisite detail. You can spend hours hunting, fishing, or simply wandering, fully immersed in the game's world based on the era long gone.
Random encounters make Red Dead 2 feel alive
As you explore the vast American Frontier, numerous spontaneous and unplanned events unfold, bringing the game's world to life. These random encounters vary widely, from assisting strangers and preventing robberies to encountering mysterious situations. Each event feels natural and unpredictable, with outcomes dependent on your choices, enhancing the game's realism and spontaneity. These encounters deepen your immersion in the game's world and add narrative richness, highlighting the complexities of life in the Wild West and Rockstar's dedication to crafting an authentic, vibrant world.
A Bounty of Mini-Games and Activities in Red Dead Redemption
Dive deeper into the world of Red Dead Redemption with an array of particular mini-games and side activities that add layers of fun and realism to the gaming experience. From poker and blackjack in saloons to a duel or simply taking a moment to play the harmonica around the campfire or taking care of horses, these activities offer a break from the main storyline and allow you to engage with the game world in unique and entertaining ways.
Red Dead boasts Dynamic Weather and a Day-Night Cycle
Experience the Wild West in all its glory thanks to Red Dead Redemption 2's dynamic weather system and realistic day-night cycle. Witness breathtaking sunsets and dawn, endure harsh weather conditions, and watch as the world around you changes, affecting the environment and the behavior of the game's inhabitants. This level of detail not only enhances the visual appeal of the game but also contributes to a more immersive and authentic gameplay experience.
Red Dead Redemption 2 lets you feel the thrill of hunting
Embrace the life of a cowboy and skilled outdoorsman and naturalist with the game's intricate hunting and crafting systems. You can track and hunt a variety of animals in the wilderness, utilizing different weapons and tactics. Successful hunts yield resources that can be used for crafting useful items and upgrades, adding a survivalist dimension to the game. This aspect of gameplay not only enriches your connection to the game world but also provides practical benefits for the journey through the Wild West.
Red Dead Redemption 2 post-game activities
Buy Red Dead Redemption 2 PC key to enjoy everything that a rich Wild West open-world sandbox has to offer. Even after you finish the massive campaign, you'll still be able to explore a world inhabited by a variety of NPCs and wildlife. You'll explore deserts, livestock towns, developing industrial settlements, alligator-infested swamps, snowy mountain peaks, dangerous caves, and you'll enjoy all these activities in a world built with an authentic Wild West atmosphere and staggering attention to detail.
Red Dead Redemption 2 PC: Experience the Frontier in Stunning Detail
Embark on an epic journey through the heart of the American frontier with the PC release of Red Dead Redemption 2, the definitive edition of Rockstar Games' masterpiece. This isn't just an ordinary foray into the Wild West; it's a deeply enhanced experience that transcends the original Xbox One and PlayStation 4 console versions. With a slew of technical and content upgrades, the PC version of Red Dead Redemption 2 invites you to witness the Wild West saga in breathtaking fidelity and with expanded gameplay features. Saddle up and prepare to traverse a world where every detail is sharpened to perfection, and the frontier's untamed beauty is more alive than ever before.
Red Dead Redemption 2 PC's definitive experience
Buy Red Dead Redemption 2 PC key and get the best, definitive version of this amazing gaming experience. While Red Dead Redemption 2 shined on consoles, its release on PC a year later features multiple additions that expand upon what was an already large assortment of possibilities that were included within this game.
Red Dead Redemption 2 PC enhancements
RDR2 PC version also features visual enhancements such as improved lighting and textures, faster frame rates, realistic facial animation, HDR and 4K resolution support, as well as multimonitor configuration. It's a real treat for PC players! Buy Red Dead Redemption 2 PC key, and you'll also receive new guns, Bounty Hunter missions, treasure maps, gang hideouts, horse types, and many other expansions that make this version of the game truly an ultimate edition. It's time to don the cowboy hat and explore the old West both in story mode and Red Dead Online!
Red Dead Redemption 2's PC community and modding opportunities
The PC gaming community is renowned for its creativity and enthusiasm in enhancing games through mods, and with Red Dead 2 fandom, this tradition continues. The availability of the PC port opens up a plethora of modding opportunities, allowing gamers to build, modify and enhance their gameplay, creating a unique, personalized and completely different gaming experience. From graphical enhancements to the introduction of new in-game content, the possibilities are virtually endless. This not only extends the game's lifespan but also builds a stronger community of gamers who share their modifications and experiences, further enriching the Red Dead Redemption 2's PC universe.
System requirements
Minimum system requirements
System requirements

Windows 7 - (6.1.7601)

Processor

Intel® Core™ i5-2500K / AMD FX-6300

Memory

8 GB RAM

Graphics

Nvidia GeForce GTX 770 2GB / AMD Radeon R9 280 3GB

Storage

150 GB
Recommended system requirements
System requirements

Windows 10 - (v1803)

Processor

Intel® Core™ i7-4770K / AMD Ryzen 5 1500X

Memory

12 GB RAM

Graphics

Nvidia GeForce GTX 1060 6GB / AMD Radeon RX 480 4GB

Storage

150 GB
Other details
Languages

English

French

German

Italian

Polish

Spanish

Release date

November 5, 2019

Publisher

Rockstar Games

Developers

Rockstar Games

Works on