Tiny Tina's Wonderlands: Chaotic Great Edition XBOX LIVE Key UNITED STATES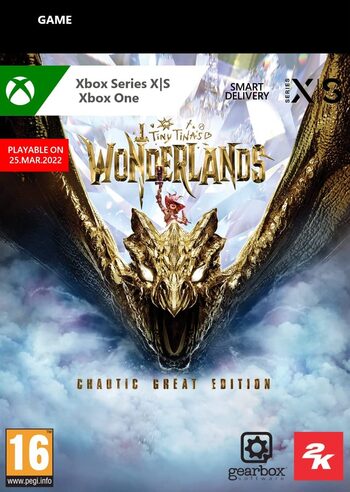 Tiny Tina's Wonderlands: Chaotic Great Edition XBOX LIVE Key UNITED STATES
Împărtășiți cu cineva căruia i-ar plăcea acest lucru!
Cea mai ieftină ofertă
Cauți oferte bune?
Primește-le livrate în căsuța ta de e-mail
Disponibil la finalizarea comenzii:
Statele UnitePoate fi activat în

Statele Unite Ale Americii

Cheie digitală

Aceasta este o ediție digitală a produsului (CD-KEY)

Livrare instantanee
Gamerii au văzut de asemenea,
Recenzii: 0
Tiny Tina's Wonderlands: Chaotic Great Edition
Chaotic Great Edition includes:
• Legendary Weapon The Apex;
• Legendary Spell Skullantir;
• Tyrant Attire Armor;
• Villain's Visage Face Preset;
• Death's Head Makeup Pack;
• Emperor of the Dead Banner Set;
• Kwartz Hero Statue Material.
Immerse yourself in an epic, strange adventure full of mysteries and powerful weapons. Bullets, magic, swords crash into the chaotic world of Tiny Tina's Wonderlands from Epic Games, introduced by Tiny Tina herself. Create your own multi-class character and collect, shoot, cut, and purl your way through extraterrestrial monsters and deep dungeons. Your goal is to stop the tyrannical Dragon Lord. Everyone is welcome, so join the party and dive into Tiny Tina's Wonderlands game now!
A unique fantastic world
Tiny Tina is your guide who will take you through an unusual world based on a board game, where there are almost no rules. Explore giant cities, dense forests, majestic fortresses, and more. Tiny Tina's Wonderlands Epic Games key will be most enjoyed by fans of the Borderlands series, as it is in the Borderlands universe that the action of Tiny Tina's Wonderlands takes place. Get in the way of completely insane battles and unusual characters that will entertain and confuse you, as well as enemies that will be relentless. Also, the choice of weapons and magic in the game is staggering.
Tiny Tina's Wonderlands features:
• Weapons, magic, and more. Sweep the bad guys with powerful weapons and devastating spells in intermittent first-person perspective battles. Use your firearms to defeat legions of enemies, including skeletons, sharks, and giant bosses. Also, don't forget to travel to dangerous dungeons, because only there will you find epic prey;
• Interesting allies. The strong captain Valentine and the robot Frette, who is crazy about rules, are sitting at the game table with you. During your trip, you'll also meet fun characters, including a Bardbarian and a Fairy Punchfather;
• Character customization. The game features deep character customization consisting of a multiclass system. With its help, you will be able to combine six different skill trees, each with special characteristics. Raise your level, upgrade your equipment, expand your arsenal and become the very best;
• Chaotic co-op. Enjoy the story alone or immerse yourself in co-op mode with three friends. Play as you wish;
• Cheap Tiny Tina's Wonderlands Epic Games key price.
Alte detalii
Limbi

Data lansării

25 martie 2022

Editor

2K Games

Dezvoltatori

Gearbox Software