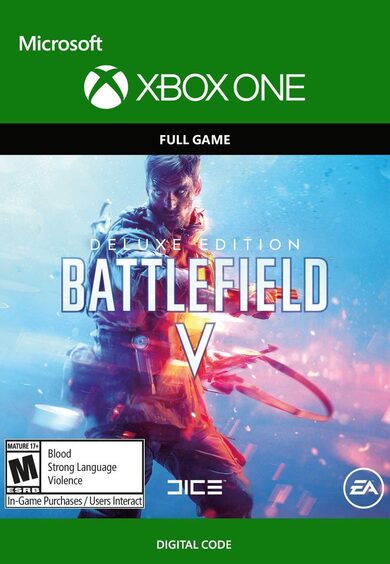 Battlefield 5 Deluxe Edition (Xbox One) Xbox Live Key GLOBAL
99.71%

din 125k + evaluări sunt excelente!
Poate fi activat în Statele Unite ale Americii
Funcționează pe
1

alte oferta
Battlefield 5 Deluxe Edition (Xbox One) key
Battlefield 5 Deluxe Edition (Xbox One) key is designed for players that want to start their experience well-prepared. Enjoy more outfits, customization items, additional Special Assignments, and more!
Battlefield 5 Deluxe Edition (Xbox One) key includes these additions:
• Base Battlefield 5 Game Key
• Five Sets of Paratrooper Outfits
• Special Assignments
• 20 Weekly items with Airlift
Battlefield 5 key
The military FPS juggernaut is back. EA Games storms the market with their fifth addition to Battlefields' franchise. Battlefield 5 is set back in one of the most intense and horrific events of the past that switched the axis of power around the globe, partake in World War II.
Intriguing Features
Battlefield 5 Xbox One key boasts improved handling, vast customization options, all-new multiplayer experiences, a variety of unique war stories created for single-player, all new co-op content along with stunning graphics and visual effects. These features make this action-packed shooter more immersive than it has ever been.
Assured Replayability
As expected from a major EA release, the Battlefield 5 price comes in at AAA pricing, but you can be assured that you will get every penny's worth out of the amazing game. Get your Battlefield V Xbox key today and jumps straight in the non-stop action. The game's not only immersive and complex but also offers insurmountable replayability value!
Gameplay Modes
From an all-out 64-player death-match to attack and defend skirmishes, from team versus team clash to last man standing battle royal, Battlefield 5 Xbox key offers a multiplayer play that literally offers it all!
If you are a less competitive type or just want to get the feel of how hard the times were, solo-campaign offers a variety of historical close-ups, where you can play for one of the protagonists fighting in unique locations, varying from steaming desserts to icy mountain passages.
And then Battlefield V Xbox One key has the co-op mode with the opportunity for up to 4 players to form a squad, customize your characters and face never before seen challenges together. The finest moments of camaraderie enhance the experience tenfold!
The Overall Feel
As expected from the Battlefield series, the graphics and overall mechanics are smooth and precise. Extension to movements and character animations provide the ability to execute rolls, vault, climb, slide, glide, run while crouching, jump, fall and other essential to survival movements.
Buy Battlefield V Xbox key and pick from 4 different soldier class types and 5 archetypes, drive various military vehicles, fortify your defence stations and, of course, experience gain much more content in-game. Stay strong, stay vigilanete, stay honourable and remember, each battle is important!
---
Detaliile jocului
Un singur jucător

Mai multi jucători

Cooperativ

Prima persoană
---
Gen:
Limbi:
Arabă
Engleză
Franceză
Germană
Italiană
Portugheză
Simplified Chinese
Spaniolă, Castiliană
Traditional Chinese
---
Data de lansare:
November 20, 2018
Dezvoltatori
EA Digital Illusions/EA DICE
Editor
Electronic Arts Inc.
---