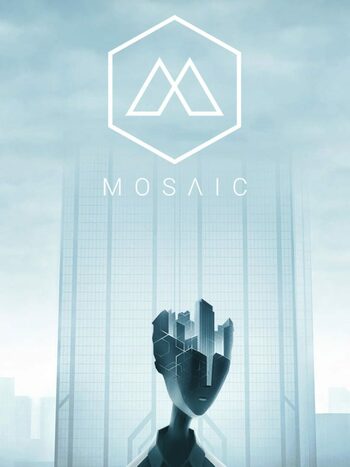 Împărtășiți cu cineva căruia i-ar plăcea acest lucru!
GlobalPoate fi activat în

Statele Unite Ale Americii

Verificați

Cheie digitală

Aceasta este o ediție digitală a produsului (CD-KEY)

Livrare instantanee
Gamerii au văzut de asemenea,
Recenzii: 0
S-ar putea sa-ți placa, de asemenea
Descrierea produsului
Mosaic Steam key
Buy Mosaic key and experience a philosophical, thought-provoking video game title developed by Krillbite Studio and published by Raw Fury. Mosaic is a game with a strong melancholic touch and it once again proves that video games can be a true form of art that contains the capacity to relate strong messages about human life and its nature.
Main premise
The majority of the game takes place in a bleak dystopian world that is frightenedly reminiscent of the reality most people face in modern times. Buy Mosaic key and see the life of the corporate worker. From the first glance, there's absolutely nothing special or significant about him or his painfully repetitive life. The lonely protagonist is stuck in a perpetual motion of existence by continually facing a pointless routine, being alienated by people around him and having the little he has of value in the state of constant jeopardy.
Presentation
The world presented in Mosaic is dark and soulless without featuring any Earth-shattering post-apocalyptic events or nuclear wars. The game captures and illustrates the horror and absurdity that is found in the conformist everyday existence of a typical modern-day person. Once you buy Mosaic key you'll see the absurd 20th-century writer Albert Camus talked about. This video game is simply a modern retelling of the Sisyphus myth: rolling of the stone uphill knowing it will just come back down again. However, just like any game, Mosaic has an aim which gives rise to hope even in this miserable condition.
Goal of the game
Despite its pessimistic themes, Mosaic does have a hopeful message that defines the goals which exist in the game. As the main character wakes up from the unconscious, submerged state every morning he can bring more light into his world. Buy Mosaic key and see what happens if you decide to ignore the apathetic demands of the stagnant routine. Take a moment to peek at the sun through the window or rescue a cat stuck in the tree. Even though the game presents a very bleak picture of reality, its ultimate message is optimistic: play the game and help the protagonist to discover the meaning of his life in humble everyday things.
Cerințe de sistem
Cerințe Minime de Sistem
Cerințe de sistem

Windows 10

Procesor

Intel i3

Memorie

1024 MB RAM

Grafica

Gece GTX 860- / RX vega 11

Depozitare

3 GB
Cerințe de sistem recomandate
Cerințe de sistem

Windows 10

Procesor

Intel i5

Memorie

2048 MB RAM

Grafica

Dedicated GPU (5 years old) e.g Gece 1050

Depozitare

3 GB
Alte detalii