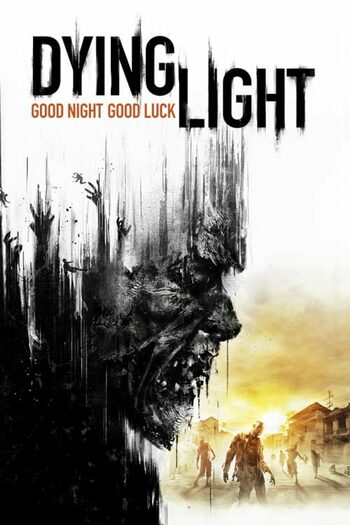 Dying Light (uncut) Steam Key GLOBAL
99.8%

din 550k + evaluări sunt excelente!
Cel mai mic preț
GlobalPoate fi activat în

Statele Unite ale Americii

Cheia digitală

Aceasta este o ediție digitală a produsului (CD-KEY)

Livrare instantanee
Notă importantă:
Product CAN'T be activated in these countries: Germany, Japan, Russian Federation, Armenia, Azerbaijan, Belarus, Georgia, Kazakhstan, Kyrgyzstan, Republic of Moldova, Tajikistan, Turkmenistan, Uzbekistan, Ukraine.
2

alte oferte
100%

din 100 + evaluări sunt excelente!
Recenzii: 9
escopeto66

05.08.2020

Traducere automată

Foarte bun joc. cere putine cerinte si merge foarte bine.

RozvM

28.07.2020

Traducere automată

Este un joc bun dacă ai prieteni cu care să cooperezi.

sniper45

08.07.2020

Traducere automată

dintre cele mai bune jocuri pe care le-am jucat vreodată și cer câteva cerințe

DV1 Tayu

15.12.2020

Traducere automată

Juc un joc foarte frumos zi și noapte, dacă cineva ar dori să-l cumpere, l-aș recomanda cu plăcere și, dacă cineva are un computer slab,

Davidenko56

13.12.2020

Traducere automată

Joc, amestecă parkourul cu supraviețuirea și ucide zombi, minunat. Mi-am dorit foarte mult să o am și să mă bucur de experiență.
Dying Light Steam key
Buy Dying Light key to immerse yourself into an open-world first-person survival horror game developed and published by the Techland. Get ready to spend some time running around in an open-world city swarming with zombies, as humanity has plunged into a new dark age after the outbreak of a zombie infection. Try your hardest to survive in this post-apocalyptic reality among the hostile humans and the even deadlier infected.
Parkour system
One of the most notable features of Dying Light is its parkour mechanic that makes the game comparable to an open-world Mirrors Edge filled with zombies. You'll constantly find yourself manoeuvring in a zombie-infested city and being chased by the infected. Once you buy Dying Light key, you'll get to explore a city both on horizontal and vertical planes as you try to survive among the walking dead and hostile scavengers alike, running and jumping on rooftops or hanging on to ledges until it finally becomes a thing of second nature.
Dynamic day and night cycle
The exploration of the open-world city is necessary to progress the campaign's storyline, accomplishing side quests or gathering resources for crafting. The world of Dying Light has a dynamic day and night cycle that respectively determines two completely different experiences of gameplay. During the day, you can explore the world and engage in combat fairly easily as long as you keep your guard up but you should buy Dying Light key to experiencing the real sense of tension at night! Enemies become overwhelming and aggressive, leaving you forced to rely on stealth.
Multiplayer
While Dying Light offers an engaging single-player campaign experience that will provide you with many hours of gameplay as you'll find more and more creative ways to combat the infected, the game also presents an interesting multiplayer mode. You can be accompanied by up to 3 friends in the co-op mode as you explore the post-apocalyptic open-world city together, using your parkour skills and running on rooftops to avoid the infected. However, you should buy Dying Light key to be the boogeyman yourself too! Hunt the living as a zombie by using flesh zip lines and spit that summons the infected. So use this chance to get the Dying Light key and experience the most definitive open-world zombie game title as of yet!
---
Detaliile jocului
Evaluat 18+ (Matur)

Un singur jucător

Mai multi jucători

Cooperativ

Prima persoană

Realitatea virtuală
---
Gen:
Funcționează pe:
Limbi:
Coreeană
Engleză
Franceză
Germană
Italiană
Olandeză
Poloneză
Portuguese-Brazil
Rusă
Simplified Chinese
Spaniolă, Castiliană
---
Data de lansare:
30 ianuarie 2015
Editor
Techland Publishing
---
Cerințe de sistem:
Cerințe Minime de Sistem
Cerințe de sistem: Windows 7 / Windows 8 / Windows 8.1
Procesor: Intel Core i5-2500 3.3 GHz / AMD FX-8320 3.5 GHz
Memorie: 4 GB RAM
Grafica: 1 GB VRAM - NVIDIA GeForce GTX 560 / AMD Radeon HD 6870
Depozitare: 40 GB
Note suplimentare: 64-bit OS
Cerințe de sistem recomandate
Cerințe de sistem: Windows 7 / Windows 8 / Windows 8.1
Procesor: Intel Core i5-4670K 3.4 GHz / AMD FX-8350 4.0 GHz
Memorie: 8 GB RAM
Grafica: 2 GB VRAM - NVIDIA GeForce GTX 780 / AMD Radeon R9 290
Depozitare: 40 GB